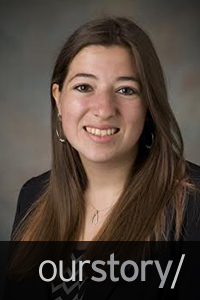 Our Story/Abby Michael
Before Abby Michael ever applied to college, Penn State was like a second second home for her.
Growing up, Abby Michael's father always took the family to Penn State football games. When she was 8-years-old, her oldest brother enrolled at Penn State and her father purchased season football tickets.
For the next 10 years, Michael spent every home football weekend in State College. Along the way, two of her other older brothers also enrolled at Penn State.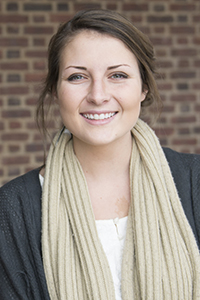 Our Story/Cara Antonaccio
As a child, Cara Antonaccio faced pediatric cancer. While undergoing her treatment, she developed an interest in health and disease prevention.
More so, as she shared hospital rooms with children from other countries who came to the United States for care, Antonaccio became curious about the causes of deterioration of healthcare systems in developing nations.
"My goal is to work with an organization that has a major stake in sustaining and developing health care systems particularly for women and children in conflict settings," she said.
Our Story/Jesica Villagomez
When a weekend or semester break arrives for Jesica Villagomez, she is not simply taking a breather from her studies at Penn State.
Instead, Villagomez is working as a clinical technician for a drug and alcohol rehabilitation center where she leads support groups, group activities, and therapy exercises to help patients cope with their addiction triggers.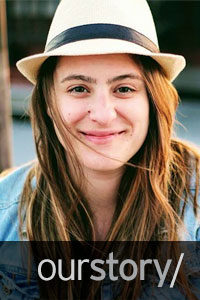 Our Story/Ariella Camera
In 2015, Ariella Camera visited an Ebola treatment unit while employed at the U.S. Agency for International Development (USAID). While there she met a health worker who contracted and survived Ebola. Yet that same worker continues to dedicate his life to delivering high-quality health care to anyone.
This dedication is why Camera, who earned her degree from the Department of Biobehavioral Health at Penn State, believes health workers are the backbone of the health system. Those same workers drive her passion.
Camera started her career in public service and health care at Rockland County's Department of Health and Hudson River Healthcare, both in New York. Now, as a public health adviser for Human Resources for Health in the Global Health Bureau at USAID, Camera works to support health systems programming to improve health outcomes in low- and middle-income countries.
Our Story/Marc Dingman
For Marc Dingman, teaching and learning go hand in hand.
Dingman, instructor in the Department of Biobehavioral Health (BBH) and director of the Online Bachelor of Science Program Degree Program in BBH, is the 2017 recipient of the HHD Alumni Society Excellence in Teaching Award in the College of Health and Human Development. As someone who is passionate about his students' success, Dingman feels honored to be recognized for his achievements.
But the accolade is only one piece: the joy Dingman gets out of his work is a reward in itself.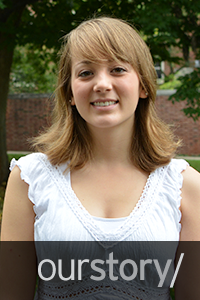 Our Story/Courtney Cann
Courtney Cann is working to better understand the effects of nicotine on learning and memory, and why some people find it harder to quit smoking than others.
The senior biobehavioral health major is a recipient of an Undergraduate Research Grant from the College of Health and Human Development, and is leading a project focusing on sex differences in the effects of nicotine withdrawal.
She hopes this research will lead to better treatment for those who want to quit using tobacco.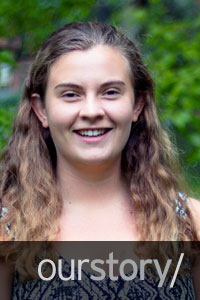 Our Story/Alexandra Wagner
Alexandra Wagner grew up in State College. Among the factors that made her decide to stay close to home and choose the College of Health and Human Development and Schreyer Honors College at Penn State were the opportunities to travel far from home.
"One thing that really stuck out to me was their emphasis on a global perspective," Wagner said. "I wanted to be involved in a community that was focused on working with people that weren't just the same people I had grown up around my whole life."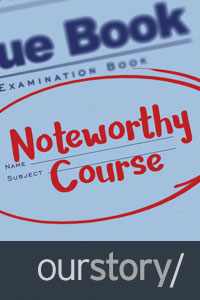 Our Story/Principles of Epidemiology
Ebola and Zika: two infectious diseases causing public health scares. They differ in the way they are contracted, the communities they affect, and their risks. But for students taking Principles of Epidemiology, they are salient examples in understanding the impacts of disease and health across populations.
For more than thirty-five years, students taking the course learn about the methods and applications of epidemiology and the foundations for diversity of disease and health among populations.
Our Story/Brady Lucas
As a childhood cancer survivor, Brady Lucas views Penn State's IFC/Panhellenic Dance Marathon (THON), a fundraiser for pediatric cancer research and treatment, through a different lens than many of his peers.
His personal experiences with illness at a young age, he says, may also give him a different perspective on health and medicine, two areas he is studying today through Penn State's Department of Biobehavioral Health (BBH).
Our Story/Danica Slavish
Danica Slavish, a doctoral candidate in the Department of Biobehavioral Health, was attracted to the program's interdisciplinary design and was eager to begin her own research while also contributing to existing projects in the field.
Now she is studying reactions to stress and with the goal of developing targeted interventions. 
"If we can identify those factors, we can create stress management initiatives tailored to individuals, increasing the chances of promoting health" Slavish said.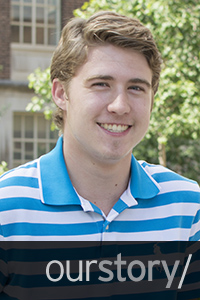 Our Story/Timothy Boyle
Timothy Boyle likes to challenge himself. If coursework, leadership roles in student organizations, and internships weren't enough, this BBH major and Schreyer Scholar swims, bikes, and runs to prepare for a unique competition.
Boyle recently competed for the first time in the USA Triathlon Collegiate National Championship in Clemson, South Carolina. There, he completed a standard Olympic distance race: a 1.5 kilometer swim, 40 kilometer bike, and 10 kilometer run.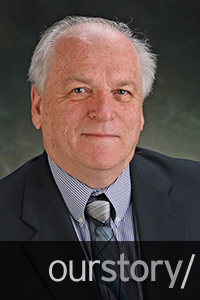 Our Story/Frank Ahern
Frank Ahern has not only watched the Department of Biobehavioral Health evolve over the past 20 years, he has been a part of it.
A senior research associate and professor-in-charge of undergraduate programs in the Department of Biobehavioral Health, Ahern has taught thousands of students in the areas of epidemiology, research methods and applications for health behaviors, health and aging, and health services research.
"I was lucky to be involved in establishing the BBH graduate and undergraduate programs and especially for the inclusion of epidemiology as a required component of the undergraduate curriculum," Ahern said.
Our Story/Rita Seith
Rita Seith entered the Biobehavioral Health program knowing she wanted to explore epidemiology, the branch of medicine that deals with the incidence, distribution, and possible control of diseases.
"Infectious disease has always been really fascinating to me," she said. "It's dynamic."
Her trip abroad last summer, as part of the Global Health program, not only inspired her studies, but also allowed her to get her feet wet.
Our Story/Marc Neith
Though Marc Neith always knew his calling was in the health care field, it took a trip across the globe and dedicated mentorship for him to find his passions.
In summer 2014, Neith was assigned to spend six weeks in Tanzania, Africa. He said the experience opened his mind to the cultural and economic differences between State College, the United States and East Africa. 
"It was a life-changing trip," he said. "Even when I wasn't doing fieldwork it was still a learning experience to be engrossed in the culture."
Our Story/Rhoda Moise
Rhoda Moise wants to change how the world talks about diabetes.
In 2012, the Elkins Park, Pennsylvania, native took part in the Health Educational Research Opportunities program at Virginia Commonwealth University.She fell in love with public health and the preventive approach to medicine.
Now her research and work focus on health disparities affecting the underrepresented populations and determinants of chronic diseases among minority and low-income populations.
Our Story/Danielle Kovalsky
Hailing from Worcester, Pennsylvania, Danielle Kovalsky came to Penn State planning to pursue a major in biology.
"I was taking an ecology course during the second semester of my freshman year when I realized that although I loved biology, the major was not the right fit for me," she said.
And that is how she landed in BBH.
"I did, and still do, believe it is extremely important to understand what factors in a person's life contribute to their health, not just the basic underlying pathology of a disease," the biobehavioral health major said.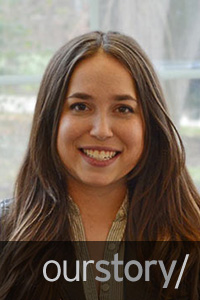 Our Story/Sara Manetta
Initially, Manetta studied bioengineering. However, after a few courses Manetta realized she was good in math, but she wasn't passionate about it. So, she took a semester off to explore her career interests. Once again, her sister helped guide her by suggesting she check out BBH.
"My sister told me if she could do it again, she would study BBH, and maybe I should check it out because it's more of a build-your-own focus; you can focus on what interests you," Manetta said. "I was more interested in psychology, but biological aspects of it and I thought BBH was a good fit."
Our Story/Farlah Cadely
Farlah Cadely remembers the day she came home to find her younger sister, an elementary school student, crying in her room. Cadely learned that when her sister read a passage out loud in class, the other students heard her speech error and bullied her.
Her sister pronounced "r" sounds as "w," an issue that can be helped by a speech-language pathologist, but in this case, resolved with age.
Cadely never forgot her sister's experience; however, it wasn't until a high school career aptitude test suggested speech pathology as a profession that she researched the field and decided to pursue it. She appreciated that the career would provide both research opportunities along with regular interpersonal communication while helping others.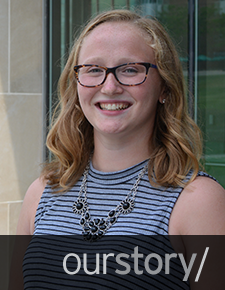 Our Story/Heidi Fanton
When an infant is a new addition to a family, adequate sleep for everyone in the household is a common issue of concern.
Student Heidi Fanton is helping Penn State researchers, including Doug Teti, head of the Department of Human Development and Family Studies, investigate sleep habits that will ultimately lead to recommendations for healthier sleep habits for infants and families.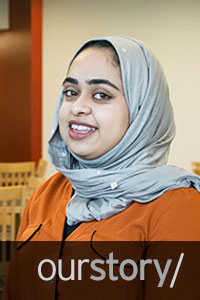 Our Story/Rawan Ali Jaffer Al Lawati
As a child, Rawan Ali Jaffer Al Lawati struggled with certain pronunciations and her classmates bullied her for the speech impediment.
After time with a speech-language pathologist, Lawati improved her pronunciation. Today, she is an undergraduate student at Penn State majoring in Communication Sciences and Disorders (CSD) and minoring in Psychology with a goal to help others.
Ultimately, Lawati wants to return to her home country of Oman where she said more support programs are needed.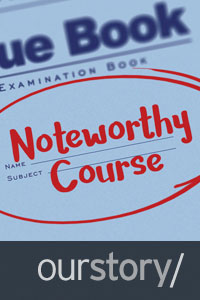 Our Story/Introduction to Audiology
After a day of closing off one ear, Grace Bratlee's eyes were opened to the struggles of what one in five people experience—some form of hearing loss. The project in Introduction to Audiology, which tasks students to wear one earplug for a day to simulate hearing loss, has made the course both memorable and impactful.
"I think many people are unaware of the field of audiology and are genuinely curious about what they can do to help loved ones and others," said Grace Bratlee '16 CSD.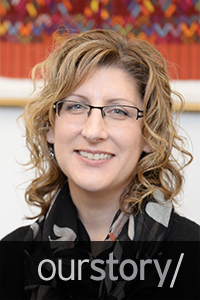 Our Story/Kathy Drager
Kathy Drager, associate dean for research and graduate education, knows how hard it can be for an undergraduate student to identify a career path. Her pursuit of speech-language pathology as a career did not materialize until she discovered the marriage of language and disability.
"Communication is a way in which human beings can connect with one another, and this is no less important for those who have a disability that makes speech difficult or impossible," Drager said.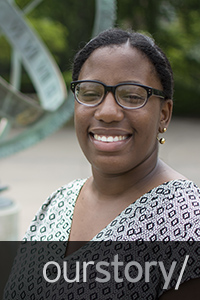 Our Story/Jalyn Taylor
The car needs washed.
For people who grew up in Central Pennsylvania, the previous sentence likely will not seem out of the ordinary. However, for those who move to the area, the sentence often grabs their attention. That's because the proper phrasing should be, "The car needs to be washed."
That common local phrasing is what undergraduate student Jalyn Taylor is studying through the McNair Scholars Program with Carrie Jackson, associate professor of German and linguistics, in Moore Laboratory.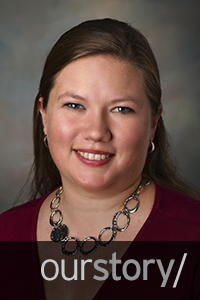 Our Story/Sommar Chilton
When instructing an introductory course for American Sign Language, on the first day of class, Sommar Chilton uses sign language to introduce herself and the course to students. Most students look back at her with blank stares or confusion.
For Chilton, one of the most rewarding aspects of her career is making a positive impact on her students.
"When a student says to me that I made a difference in their lives or I helped them to think about something from a different perspective, whether it is people who are deaf or sign language, that is the best thing I could ask for from my students," Chilton said.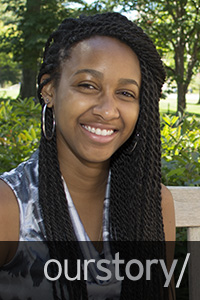 Our Story/Angelique Murillo
Angelique Murillo, an undergraduate Schreyer Scholar and Waller Mildred S. Bunton and Calvin H. Waller Undergraduate Fellow, most recently, gained speech-language pathology experience at UPMC-Altoona Regional Hospital through a graduate externship.
"A lot of people don't realize how important it is to be able to communicate and how devastating it can be when you lose that ability," Murillo said. "For example, when I'm working with a patient who had a stroke and I point to a table but they are unable to tell me that it's a table, I see the frustration on their face. Being able to help patients so that eventually they are able to tell you it's a table…that makes you feel like you've helped them."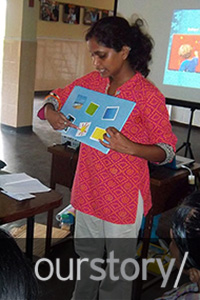 Our Story/Nimisha Muttiah
While at Penn State, Nimisha Muttiah, a recent Communication Sciences and Disorders alumni, wanted to apply what she was learning in the classroom directly back in her home community in Sri Lanka.
"I saw for myself the lack of professional and material resources and felt there was a genuine need and void that needed to be filled," she said speaking about with children with autism spectrum disorders (ASD) at specialized pre-schools in Sri Lanka
Our Story/Kelsey Takemori
When Kelsey Takemori was in elementary school she attended speech class where she learned how to correctly pronounce the letter "R" by repeating phrases such as, "the rabbit ran around the rink."
"It wasn't until I was in high school that I realized all of those times I would leave class to go to 'speech' I was receiving what I now know to be speech therapy from a speech-language pathologist," Takemori said.
Our Story/Ana Daccach
A reference by Ana Daccach's mother to The King's Speech ultimately led her to Penn State's College of Health and Human Development.
At the time, Daccach was considering becoming a doctor like her father, but as her high school graduation approached she became less certain that medicine was the right field for her. That is when her mother brought up the film, which depicts a speech therapist helping England's King George VI overcome stuttering. Daccach's mother also pointed out that Daccach's brother worked with a speech therapist when he was younger.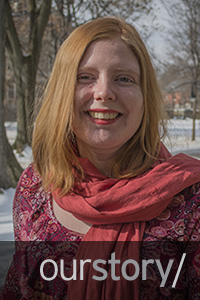 Our Story/Hope Schmid
At the age of 16, Pennsylvania native Hope Schmid found herself in Belgium, immersed in a new culture, and adjusting to speaking a new language. As a high school exchange student who was honing her French speaking skills, Schmid found herself learning a great deal while also facing the difficulty of being unable to fully communicate her feelings to those around her.
It was then that Schmid began to see the beauty of language and the importance of communication.
"I loved it, but it was also really hard," Schmid said. "I couldn't speak English, which gave me insight into communication and the challenges that occur when someone is unable to communicate their emotions."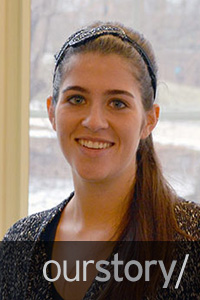 Our Story/Maggie Lamb
Maggie Lamb was a junior in high school when her cousin Aidan was born. Soon after, the family learned he was deaf. Maggie looked on as Aidan began wearing hearing aids, worked with speech therapists, and the family adjusted to a new reality.
There were times Lamb would watch Aidan and his speech therapist work together. Once, Lamb had an epiphany and a career path became clear.
"It was that 'ah-ha' moment, this is what I want to do," Lamb said. "Plus, I have those personal experiences to drive me drive to do this."
Lamb selected Penn State's CSD program after seeing the diverse offerings, such as the rare undergraduate course Augmentative and Alternative Communication, where students use and create communication technology systems for people with communication disabilities.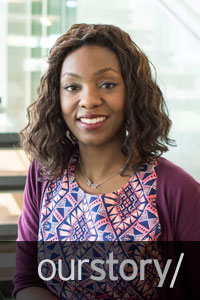 Our Story/Carla Stephens
Carla Stephens is a problem solver. For her, she wants to tackle two big problems – increase health care literacy and improve access to quality health care for all.
The magnitude of this problem became clear when Stephens interned at the Virginia Coordinated Care Program for the Uninsured through Virginia Commonwealth University, where she helped staff determine why more patients were not utilizing the program, which provides low income and vulnerable groups health care services.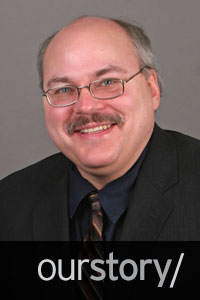 Our Story/Mark Sciegaj
Mark Sciegaj enjoys learning from his students just as much as he enjoys teaching them.
More importantly, he wants to ensure his pupils are prepared to thrive in an industry that changes—and quickly. 
A longtime professor of health policy and administration, Sciegaj devotes his time to preparing students to enter the diverse and growing fields of health policy and health care administration.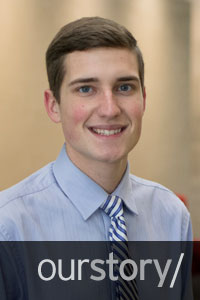 Our Story/Nate Ashton
For Nate Ashton, who graduated in December 2016 with a degree in Health Policy and Administration, there is something special about having a genuine connection with older adults while sharing something simple, like a meal together.
Ashton regularly sought and appreciated such connections as an intern and then part-time employee at Foxdale Village, a continuing care retirement community in State College.
During has last semester as a student, on Fridays, Ashton worked at Foxdale where he ate with residents and led one-on-one exercises in a swimming class, while also assisting with policy writing and a transition to electronic medical records.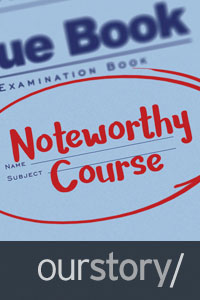 Our Story/Introduction to Health Services Organization
In the 1950s and 60s, health policy specialists were few and far between, which was a very different situation than it is today. This example is just one of many in which the health care field has changed.
A long-offered course in the Department of Health Policy and Administration has enhanced understanding of the health care field and set the educational foundation for this ever-evolving industry. Introduction to Health Services Organization continues to be relevant for students: it stays with—and ahead—of the industry.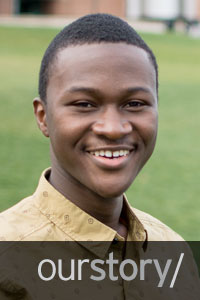 Our Story/Emmanuel Houndo
For first-year Penn State student Emmanuel "Manny" Houndo, it was a pivotal moment in his life when Beyoncé shared a YouTube video of him playing her song, "Drunk in Love," on his violin.
A social media shout-out from Beyoncé, Grammy winner and Super Bowl half-time headliner, is a big deal, particularly for a teenager in high school with a passion for music.
"Amazing!" Beyoncé said in her Feb. 8, 2014 post.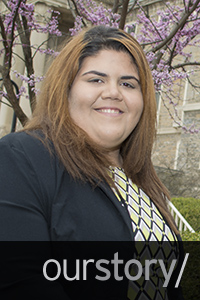 Our Story/ Zenaida Gonzalez
For Zenaida Gonzalez, helping others has always been a natural part of her life.
As a teenager she volunteered for Philabundance, an organization that strives to end hunger in the Philadelphia, Pennsylvania, region. She also donated her time during marathons and other events.
In addition to her desire to help others, Gonzalez noticed that while others feared hospitals and doctors, she felt just the opposite. With frequent hospital visits for loved ones, in addition to her own routine check-ups, Gonzalez developed a level of comfort in medical settings.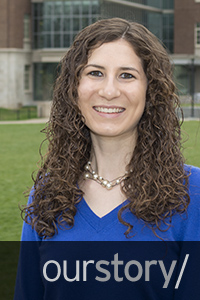 Our Story/Samantha DiMeo
Samantha DiMeo, an undergraduate in Health Policy and Administration, conducted research that offers a solution to a major health care problem.
"Retail health clinics have the potential to increase access to care for underserved and rural populations, but the business models of retail health clinics are structured to be profitable; therefore, clinics are primarily located in urban and more affluent areas," DiMeo said.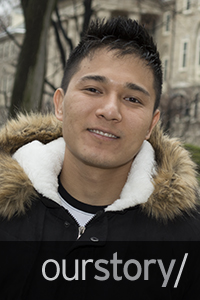 Our Story/Mangal Tamang
Mangal Tamang sees a gap within the American health care system and hopes to be a bridge between public health services and community members who are unaware of the resources available to them.
Tamang, who moved with his family from Bhutan to Philadelphia, Pennsylvania, in 2011, wants to help Bhutanese Americans navigate the health care system.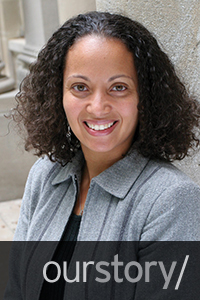 Our Story/Rhonda BeLue
Rhonda BeLue, associate professor of HPA, Public Health Sciences, and Demography, has taught at Penn State since 2005 and advised dozens of graduate and doctoral students along the way. Particularly, BeLue appreciates her engagement with students, which she described as a "mentoring family."
"Engaging with students helps me understand how to teach to a variety of learning styles and to get to know students beyond their classroom performance," BeLue said.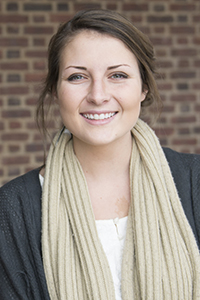 Our Story/Cara Antonaccio
As a child, Cara Antonaccio faced pediatric cancer. While undergoing her treatment, she developed an interest in health and disease prevention.
More so, as she shared hospital rooms with children from other countries who came to the United States for care, Antonaccio became curious about the causes of deterioration of healthcare systems in developing nations.
"My goal is to work with an organization that has a major stake in sustaining and developing health care systems particularly for women and children in conflict settings," she said.
Our Story/Jesica Villagomez
When a weekend or semester break arrives for Jesica Villagomez, she is not simply taking a breather from her studies at Penn State.
Instead, Villagomez is working as a clinical technician for a drug and alcohol rehabilitation center where she leads support groups, group activities, and therapy exercises to help patients cope with their addiction triggers.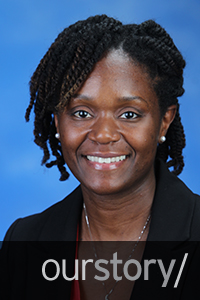 Our Story/Sherika Smith
Growing up in Port Arthur, Texas with family members in the U.S. Navy, it was a natural choice for Sherika Smith to join the Navy after high school.
"The military provided me with an opportunity to travel while working and begin my college degree plan," Smith said.
Smith, married with 4 and 7-year-old daughters, is also earning her master's degree through the online Master of Health Administration program with Penn State's World Campus and the Department of Health Policy and Administration.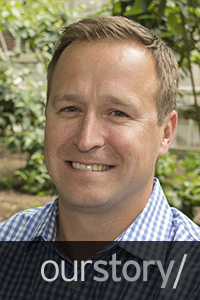 Our Story/Luke Pile
When Luke Pile, a licensed nursing home administrator, applied to the online MHA program through Penn State's World Campus and the Department of Health Policy and Administration (HPA), he and Penn State alum Kimberly Pile were still newlyweds. Together they agreed Pile earning a master's degree would be fruitful and therefore worth the commitment.
Then their lives got very interesting in some very good ways.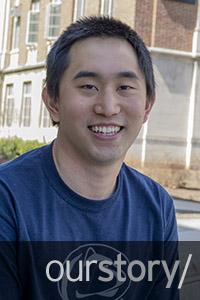 Our Story/Tim Chiang
Timothy Chiang was just 12 years old when he moved to State College, Pennsylvania with his mother and sister from Taipei, Taiwan, in their quest to reside in a safe, small town that offered a quality education.
Separated from his father, who stayed in Taiwan to work, and faced with the struggle of a language barrier with his teachers and peers at school, Chiang wanted to return to his home. However, it was the sacrifice his parents made to bring Chiang to State College that motivated him to do well in school and ultimately enroll at Penn State to study health policy and administration before fulfilling his goal of attending medical school.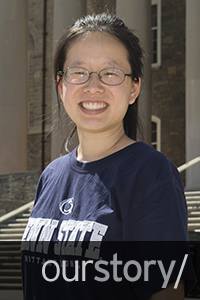 Our Story/Sharon Qi
Sharon Qi understands the challenge of providing long-term care to elderly relatives. She watches her parents, who reside in Pennsylvania, arrange care for her grandparents, who live in China.
"You want to take care of your loved ones, of course, and at the same time you have to be practical, and it's impossible to always be there for them," Qi said.
Qi saw her parents working hard to provide care to her grandparents. Soon she realized her passion was not in pharmaceuticals, but instead in the area of aging and geriatric care.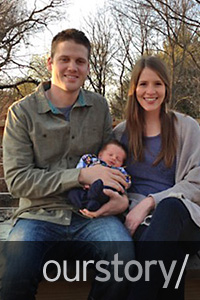 Our Story/Derek Hartman
Derek Hartman never would have envisioned leaving Idaho with his pregnant wife to earn a master's degree in health administration at Penn State while assisting a rural Pennsylvania hospital with operations. Hartman wanted to be an architect. That was the goal for most of his life. When he enrolled at Brigham Young University-Idaho, selecting construction management as his undergraduate major was a no-brainer. There was just one problem.
"It turns out I didn't like it at all," Hartman said. "It wasn't for me. I didn't enjoy it. It wasn't fun."
Our Story/Emily Pressler
In Central Harlem, New York City, Emily Pressler works to make sure children are supported through college, regardless of their family's income.
Pressler is a senior research associate at Harlem Children's Zone (HCZ), a non-profit organization that aims to end generational poverty in Central Harlem. She obtained her undergraduate and graduate degrees from the Department of Human Development and Family Studies.
Harlem Children's Zone supports children and families through parent educational programs, charter schools, pre-kindergarten programming, after school programs, career preparation, and many more avenues. The work of HCZ is important for a number of reasons, Pressler said. For example, while high school graduation rates are on the rise in the U.S., and college enrollment rates continue to increase, large disparities still exist in college graduation rates based on race and ethnicity or socio-economic status.
Our Story/Courtney McChesney
When Courtney McChesney lost her father to colon cancer in 2012, she noticed an unmet need in her family.
"I have four younger siblings who had trouble coping," she said. "We needed help. We needed support."
Two years later McChesney enrolled in the Human Development and Family Studies (HDFS) program in the College of Health and Human Development to build on a career that will allow her to help families get the support they need from the community. She graduated on Aug. 12 with her bachelor's degree from Penn State.
In addition to her classes in HDFS, McChesney is also ns assistant director at St. Paul's Christian Preschool and Childcare in State College. She plans to continue her role there.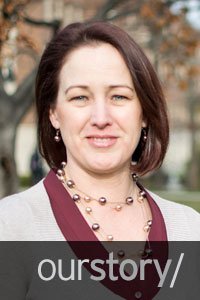 Our Story/Lisa Gatzke-Kopp
Since high school, Lisa Gatzke-Kopp has been fascinated by the workings of the brain, particularly how thoughts drive actions. 
Today, she is professor-in-charge (PIC) of the graduate program in the Department of Human Development of Family Studies (HDFS).
"What's compelling to me is the idea that our thoughts and feelings have a biological basis and that maybe we have less control over that than we would like to believe," she said. "The brain being like any other organ in the body must surely be subject to all of the same problems that can arise in any other system.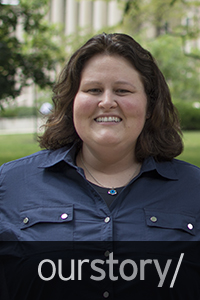 Our Story/Kathleen Zadzora
Through her research, Kathleen Zadzora wants to help create a better classroom environment for children because she believes that education is one of our best tools to strengthen our nation.
A doctoral student in HDFS, Zadzora's research focuses on child development, prevention, and intervention.
"I think for educators to best prepare kids to succeed, we need to support the whole child, and I hope that work my colleagues and I do can in some small way help educators in that endeavor," Zadzora said.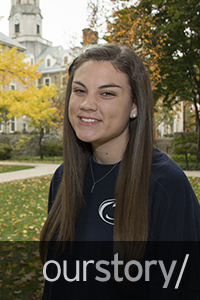 Our Story/Riley Plenge
While a sophomore in high school, Riley Plenge suffered three concussions in one basketball game. The injury also rendered her unable to play her favorite sport. However, Plenge decided there was another way for her to stay in the game.
"I lost one of my major identities," the New Jersey native said. "The injury altered my life. My dream was to play basketball in college. It took me a while to get used to not playing."
A senior in the Department of Human Development and Family Studies, Plenge now helps counsel collegiate athletes, assisting them with life skills and preparing them for careers after college.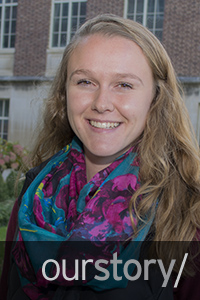 Our Story/Maddison Booge
Following in her late mother's footsteps, Maddison Booge has always dreamed of becoming a teacher. As a senior majoring in Human Development and Family Studies, she is gaining the experience and skills needed to carry out that dream.
"The passion to help others has always been there. No matter what trials and tribulations I have faced, my heart has remained with the children. My personal and professional goal in life is to become a positive, influential teacher of young children," she said.
Our Story/Hayley Ahlefeld
Hayley Ahlefeld, a senior in Human Development and Family Studies, knows the big impact her work can have on little hearts. Through her coursework, it became clear to Ahlefeld which fields she was interested in, specifically a hospital setting working with children.
"I focus on the kids, not their illnesses," she said. "I make sure they have a good day that day."
Our Story/Kenya Crawford
Kenya Crawford wears many hats; HIV/AIDS activist and family relationships researcher are just two of them.
Supported by the College of Health and Human Development, the Human Development and Family Studies senior has been using her passions and experiences to make a difference on campus and overseas.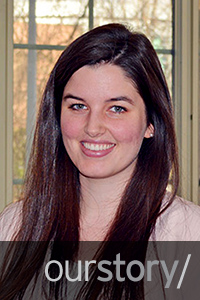 Our Story/Mary Claire Doyle
As the oldest of six children, perhaps it was only natural that Mary Claire Doyle would want to study human development.
Set to graduate in May 2015, the Pittsburgh native holds a double major in economics and human development and family studies, and a minor in business and the liberal arts.
The support Doyle has received in her major has encouraged her to enter the human service workforce to make a difference in how programs are run. 
Our Story/Katelyn Celani
Plain and simple, Katleyn Celani loves people. And with seven other siblings and tons of nieces and nephews, she is no stranger to being around lots of them.
Celani's passion for people coupled with her large family background helped direct her studies, which ultimately became human development and family studies and education. Instead of just seeking one of these majors, Celani pursued both. Penn State's offerings have helped enable her goals.
First enrolled at Penn State – Schuylkill, Celani's schedule was full of education classes. Noting her love of working with others, Celani's adviser recommended she enroll in an HDFS class, she said. The class, which focused on child development, involved a project that gave her the opportunity to observe children, she said.
"I loved the atmosphere," she said.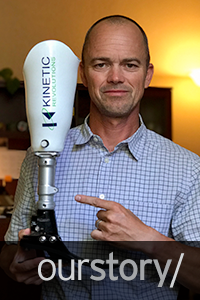 Our Story/Mac Heebner
MacDonald "Mac" Heebner IV, who earned a bachelor's degree in exercise science and MBA at Penn State, watched as a young boy and avid New Orleans Saints football fan tried on his prosthesis leg for the first time, which featured a custom designed socket with a Saints logo.
In that moment, the boy had come a long way after experiencing a partial leg amputation due to a tumor.
Together, Heebner and fellow Penn State alumnus Jeffrey Brandt, who earned a bachelor's degree in psychology at Penn State, were part of a team that helped ensure this boy walked again.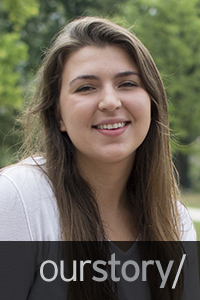 Our Story/Nicole Vairo
When Nicole Vairo, a Kinesiology senior, spent a semester abroad studying sports science in Australia, it became clear to her that the field of kinesiology is widely applicable—at Penn State and across the globe.
"My time in Australia broadened my world view of kinesiology," Vairo said. "It showed me the field of kinesiology has a place somewhere else, other than just here at Penn State. What you learn can be taken out into the field."
Vairo said both her lab and volunteer work helped solidify her choice to pursue public health as a career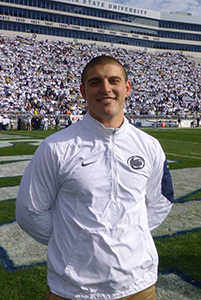 Our Story/Christopher Blaszka
A high school sports injury may have taken Christopher Blaszka out of the game and onto the sidelines, but it also opened his eyes to something else: the world of athletic training.
"I played multiple sports in high school, but my favorite was soccer," Blaszka said. "I was injured during a practice and was brought into the athletic training room. While being treated for my injury over the next week I started asking my athletic trainer what the profession was all about."
After many discussions with his athletic trainer, Blaszka applied to Penn State.
"I got into the athletic training program, and have never looked back," he said.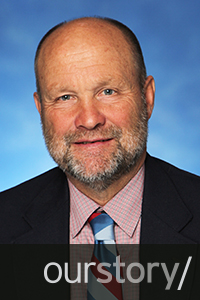 Our Story/Bob Ricketts
Sometimes Bob Ricketts' lessons take place outside of the classroom, like in a kayak or on a sailboat, or while trekking the Alps.
At Penn State since 1977, Ricketts is a senior lecturer in the Department of Kinesiology. According to his students, his classes are more about the person the you became at the end of the semester.
And for many students, he is one of the reasons Penn State was so special for them.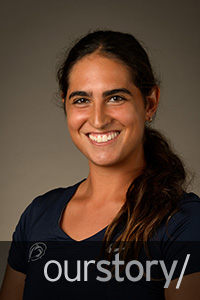 Our Story/Melissa Minniti
A tennis player most of her life, Melissa Minniti has always loved the components of the sport – the game, the fitness, and the functions of the body.
After experiencing an injury and going through recovery treatment, the junior kinesiology major decided she wants to help other people get back on their feet, too.
"There's a joy in seeing injured patients improve," said Minniti. "Being an athlete I know what it's like to be sidelined. I want to be able to give back to people and share what I've learned."
Our Story/Deshawn Baker
An athlete all his life, Deshawn Baker knew there were two places he belonged: on the field catching passes from the quarterback and in the clinic treating patients with sport injuries.
The Philadelphia, Pennsylvania, native chose kinesiology as his primary area of study because he wanted to get into the sports medicine field.
"I have always dreamed of working in health care ever since I broke my leg in ninth grade," he said.
Our Story/Kaelah Shaffer
Even before college, Kaelah Shaffer had opened her heart to help those with medical needs. And when she came to Penn State, it was the Department of Kinesiology that opened doors.
"The major is great preparation for a variety of jobs and careers," she said. "Many of the classes teach about the human body and its many functions. There are a lot of different angles you can take with kinesiology. It's a very holistic major."
In the summer of 2014, Shaffer interned at Walter Reed National Military Medical Center, during which she observed doctors in the traumatic brain injury and amputee units.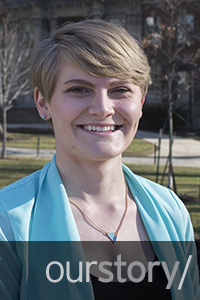 Our Story/Clara Etter
Clara Etter is a senior majoring in kinesiology in the movement science option, with minors in health policy and administration, and bioethics and medical humanities. She said her major has driven her to pursue her passions in science and the health care field, and has taught her the importance of versatility.
"My choice of kinesiology as a major has pushed me to be continuously curious, which is a value I will treasure for the rest of my life," she said.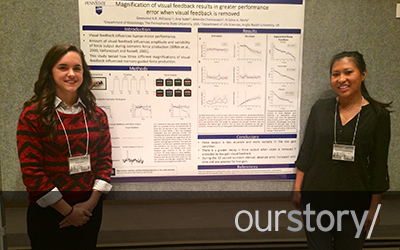 Our Story/Arie Yoder
Thanks to an on-campus research facility, cutting-edge technology and professor mentorship, kinesiology student Arie Yoder is able to use her learning experiences to spearhead her career of becoming a physician assistant.
Our Story/Matthew Bakowicz
Becoming an instructor at Penn State was not the plan for Matthew Bakowicz.
When he enrolled in the PGA Professional Golf Management (PGM) program in the Department of Recreation, Park, and Tourism Management (RPTM) at Penn State as an undergraduate student he envisioned a different future.
Bakowicz never thought he would be teaching students at his alma mater.
"I thought I'd do college for four years and then work as a head golf pro, probably in the New York area; I love the Long Island area," Bakowicz said.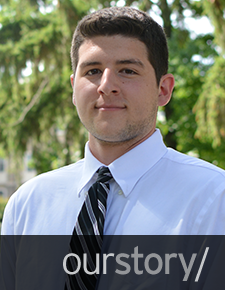 Our Story/Zach Fernandez
It all started with an assignment.
Students enrolled in RPTM 101, a careers exploration course for students majoring or minoring in Recreation, Park, and Tourism Management, are tasked with interviewing a professional working in a field of his or her interest and then writing a paper based on that interview.
For student Zach Fernandez, who wants to work in the front office of an NFL team and ultimately become a general manager, instructor Patty Kleban suggested he interview Penn State alumnus Adam Rudel, who is the marketing and football outreach coordinator for the Baltimore Ravens.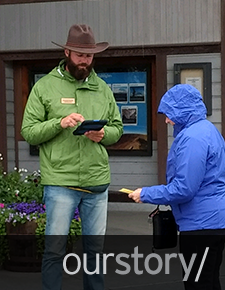 Our Story/Jeremiah Gorske
Student Jeremiah Gorske, a veteran of the U.S. Army, is turning his love for the outdoors and educating others about the environment into a career. As part of that process, Gorske is an undergraduate research assistant for Derrick Taff, assistant professor of Recreation, Park and Tourism Management, and is tackling meaningful research with the National Park Service.
In 2016, the National Park Service partnered with Subaru of America and the National Parks Conservation Association to pilot a Zero Landfill Initiative in Grand Teton, Yosemite, and Denali National Park and Preserve. Related to that initiative and through a Health and Human Development Undergraduate Research Grant, Gorske accepted an internship with the Colorado-based Leave No Trace Center for Outdoor Ethics.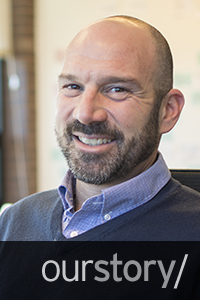 Our Story/Peter Newman
Peter Newman, department head and professor of Recreation, Park, and Tourism Management, has a deep appreciation for the outdoors. From a young age, the wilderness was a part of his story, from biking the coast of Maine to becoming a camp counselor.
Still today, the wild remains his passion. His research focuses on parks and visitor-use management, which he sees as vital to preserving the places that people dream of visiting: national parks.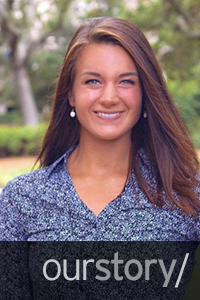 Our Story/Lisa Halat
Lisa Halat has found a way to make working feel less like work and more like fun.
That track has resulted in serving as a stagehand during the Paul McCartney concert at the Bryce Jordan Center through the Introduction to Arena Management course and as activities intern at Marriott's Barony Beach Club in Hilton Head Island, South Carolina. And, she hopes after graduation, it will land her a gig with a music festival.
"RPTM has shown me that there are so many different fields of recreation to explore," Halat said. "Music festivals intrigue me because they combine my passion for event planning and the music industry."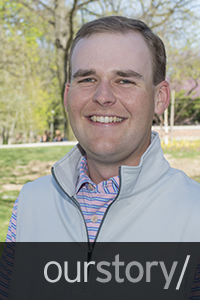 Our Story/Connor Mulcahy
For Connor Mulcahy, enrolling at Penn State was a no-brainer.
A member of his high school's varsity golf team, "the main driving forces behind my love of golf were my parents and both sets of grandparents. The drive from them and my younger brother, who is also an avid golfer, helped a lot as I was trying to continue to get better at golf," he said.
He learned the game at a young age, started playing competitively as a teen, and even worked as a caddy through high school. His passion for golf could be seen in all aspects of his life.
Our Story/Cassaundra Soars
Growing up in Central Pennsylvania, Cassaundra Soars always dreamed about attending Penn State. After suffering a knee injury while playing women's soccer at another university, Soars' dream came true with her enrollment at University Park.
"I was just drawn to the University," she said. "Penn State athletics is what I grew up around. I remember staying up late watching the Orange Bowl with my dad. My grandmother also went to Penn State."
In just a short time, Soars has made her own impact at Penn State, which led to the Pennsylvania Recreation and Park Society presenting her with the Student Honor Award for 2016, which recognizes the top recreation student in the state.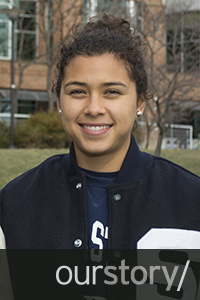 Our Story/Rocky Rodriguez
It's well known at Penn State that Raquel "Rocky" Rodriguez is a standout soccer player. Her list of achievements is lengthy, including the (NSCAA) Scholar Player of the Year, Hermann Trophy Award winner, and being the No. 2 pick in the National Women's Soccer League College Draft in January.
While known most for her success on the soccer field, lesser known is Rodriguez's plan to build a life apart from soccer, a plan she began developing at Penn State. Her first step was choosing Recreation, Park, and Tourism Management with plans to ultimately have a career in sports administration.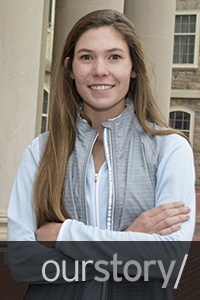 Our Story/Kate Granahan
When Kate Granahan was 10 years old she started joining her grandmother on the golf course.
"I enjoyed the fact that golf is both challenging and an athletic feat for me," Granahan said. "I think it motivates me so much because it has helped shaped who I am today."
The quality time with her grandmother helped shape Granahan into a dual athlete in high school, where she was a member of the boy's golf team and girl's soccer team. A Pennsylvania native whose father and grandfather are Penn State alumni, Granahan enrolled at Penn State with the goal to become a veterinarian. She brought her passion for golf, too, and as a freshman walked onto the women's golf team.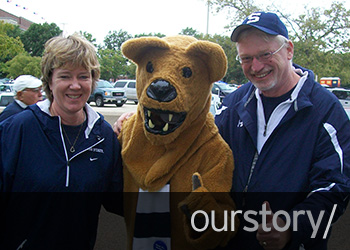 Our Story/Steve & Sue Landes
Sometimes the subject students study in college does not end up being the field in which they work for the duration of their professional career.
Interests change; priorities change; or life simply changes.
However, for Steve Landes, who graduated in 1974 from Penn State with a bachelor's degree in parks and recreation with an emphasis in administration, he spent his entire career in the same field and with the same employer.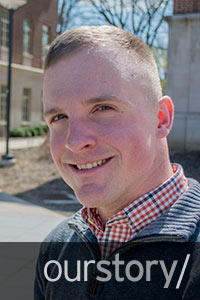 Our Story/Andrew Artz
After becoming intimately involved in the planning of a bicycle stage race, Andrew Artz decided studying recreation, park and tourism management was more up his alley.
"I went from a book-focused major to something that was all about your planning, leadership and organization skills, and I loved it," Artz said. "I wish I would have found this major sooner."
More than 4,500 Penn State students are enrolled in the College of Health and Human Development (HHD) studying a wide array of fields, each committed to the concept of improving the quality of life for others. Artz, who found a home in the Department of Recreation, Park, and Tourism Management.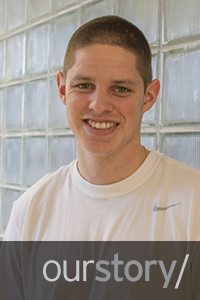 Our Story/Stephen Edwards
Stephen Edwards came to Penn State to pursue a business degree, but his path changed after taking a course offered by the Department of Recreation, Park, and Tourism Management (RPTM).
That is when Edwards discovered RPTM was a better fit, offering courses related to event planning, leadership, marketing, arena management and sports commercial recreation.
"I love working with people, which is one of the main reasons I chose this major," Edwards said. "Professors prepare you for being in leadership positions. They prepare you for planning events and being able to work in teams. If you're interested in a specific field, there are courses provided to get that knowledge."
Our Story/Mikal Daskivich
After he realized that his original major was not the right fit for him, Mikal Daskivich found a home in the Department of Recreation, Park, and Tourism Management (RPTM), where his passions for event planning and music were in sync with his classes and major
"RPTM has showed me everything that goes on behind the scenes to put on an event," said Daskivich. "Event days are extremely long, but even more rewarding when the event goes smoothly and is successful."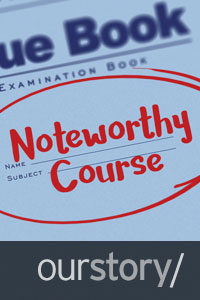 Our Story/Introductory Principles of Nutrition
Students who take Introductory Principles of Nutrition are enthusiastic about food and its role in human health. But what they may not be expecting are discoveries they make about their own eating habits.
A main component of the course is the diet analysis project, in which students track and analyze their own diets. Eric Fontaine and many other alumni cite this project as a big influence on personal lifestyle changes in terms of diet and physical activity. Many even report weight loss, improved energy, better sleep habits, and improved overall well-being.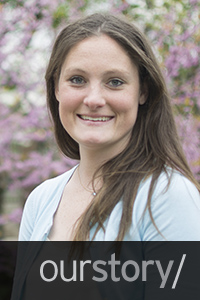 Our Story/Elizabeth Adams
Elizabeth Adams, a USDA Childhood Obesity Prevention Training Program Fellow in the Department of Nutritional Sciences, is focused on promoting multi-disciplinary approaches to preventing childhood obesity, specifically in the first few years of life.
"I want to be skilled in multiple components to make an impact on the obesity epidemic," Adams said. "The solution to reducing obesity isn't one simple answer. If we can understand how multiple components interact, we can better reduce obesity rates."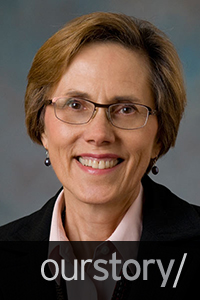 Our Story/Penny Kris-Etherton
Penny Kris-Etherton, distinguished professor of nutrition, believes what we eat has the power to change the world.
Kris-Etherton, who has more than 300 publications in refereed journals, says her passion for the study of nutritional sciences has many facets: "What we eat can affect our lives in very profound ways."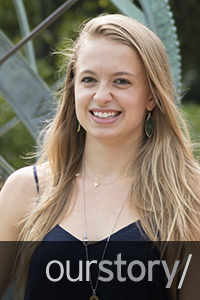 Our Story/Haley Schlechter
Haley Schlechter, a nutritional sciences senior from Blandon, Pennsylvania, has a tough job, and one that often goes unnoticed. She counsels Penn State athletes on proper nutrition to optimize their performance and long-term health.
An athlete in multiple sports, Schlechter came to Penn State with an interest in sports nutrition.
"In tenth grade I knew my path," she said. "I was interested in the power of healthy eating."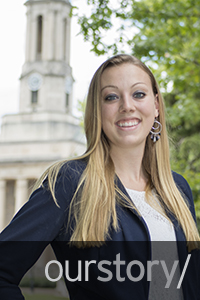 Our Story/Angela Schlegel
As a dancer most of her life, Angela Schlegel became conscious over the years about what food she put in her body, and how it impacted her performance. That consciousness turned into a passion, and now she is determined to help people enhance their health through nutrition.
She said her lab work on campus, involvement with the Student Nutrition Association, and internship experiences have solidified her career choice and continue to present her with firsthand experience working in the field.
Our Story/Natsumi Soto-Roman
Nutritional Sciences major Natsumi Soto-Roman believes the science of nourishment is applicable to everyday life, and to everyone, everywhere.
The rising senior is taking a bite out of the field through her summer internship at Friends Services for the Aging, where she has the opportunity to manage the residents' diets, as well as get to know each one on a personal level.
"I really enjoy my major. I love nutrition, and I couldn't be happier with the path that I have taken," said Soto-Roman.
Our Story/Monica Hershey
Monica Hershey is passionate about health and food, and the way food impacts health.
The recent graduate plans to use her experiences at Penn State to educate patients and people in clinical and community settings.
"You have to understand how food and medications interact," Hershey said. "You have to know every state of disease. That was really eye opening. Dietitians are so important. Their knowledge really is vital."
Our Story/Alexandra Close
On campus, in the community and through research, Alexandra Close is changing the way people think about food.
The nutritional sciences major is passionate about working with children to help them develop healthy eating habits.
"I like the idea that you can change someone's life by simply adjusting their diet," Close said.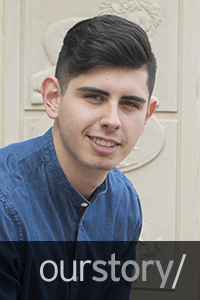 Our Story/E. Sebastian Vallejo
By the time E. Sebastian Vallejo graduates he will have seen much of the world. From growing up in Ecuador to attending Penn State, to spending a semester in Australia, Vallejo does not shy away from educational travel experiences.
As a high school student in Cuenca, Ecuador, Vallejo decided to take summer courses at a university in New York, which is where he discovered his love for hospitality management. Soon after, his personal research revealed that Penn State offers one of the best hospitality management programs in the country.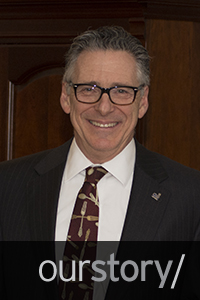 Our Story/Bart Bartlett
Bart Bartlett has a unique vantage point as associate director and professor in charge of the undergraduate program for the School of Hospitality Management. In his thirty-fourth year at Penn State, engaging with undergraduate students continues to be the best part of Bartlett's career.
"I believe that our school's success is measured by our students' successes, so when our students are successful, all of our faculty and staff members are able to bask in their reflected glory," Bartlett said.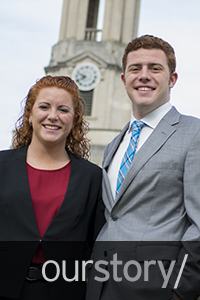 Our Story/Liz and Tom Ventura
Creating experiences for others through hospitality is a family affair for the Venturas. Not only are siblings Liz and Tom Ventura studying Hospitality Management, their relatives before them also chose this path. For Liz and Tom, their program has been positive with industry connections, experiences, and career opportunities.
And they enjoy being at Penn State together.
"Tom and I are best friends," Liz said. "If I did not have Tom by my side, this would definitely have been a different Penn State experience for me."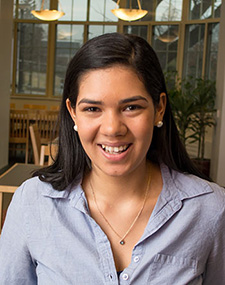 Our Story/Natalia Rojas-Valois
"I feel like my personality is why I chose to study hospitality management," Natalia Rojas-Valois said. "I like to take care of people. I like to make sure their needs are tended to and that they're comfortable. It's something that I like to do without even thinking about it. It just comes naturally to me."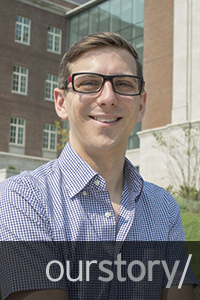 Our Story/Nicholas Smith
Before deciding to pursue a doctoral degree in Hospitality Management at Penn State, Smith earned both bachelor's and master's degrees in psychology, put in twelve years of work at Disney World, became a union representative, and worked as a researcher focused on the aging workforce.
"My experience at Disney showed me what a really great workplace looks like as well as some of the challenges within the hospitality industry," Smith said.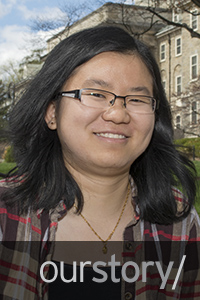 Our Story/Carolyn Low
Carolyn Low has not been home in three years. When she arrived to University Park on a government scholarship she did not know a single person aside from the few friends who transferred to Penn State before her; her family and most of her friends were a world away in Malaysia.
"I really became more independent and more confident in myself, but it's not solely my contribution," Low said. "The people around me at Penn State who were so kind to me and opened their arms to me - even though I was practically a stranger to them - really offered me a lot of help, guidance, advice, and just a shoulder to lean on. It's really the people here - who were so warm, so open, and so helpful - who really changed me as a person by helping me put myself out there more often and helping me to believe in myself."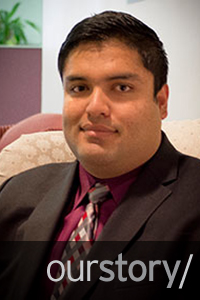 Our Story/Puneet Kumar
With his football career prematurely over, Kumar knew he ultimately wanted a career in hospitality, so he began searching for reputable programs. That is when he discovered the Penn State School of Hospitality Management (SHM).
Kumar was attracted to hospitality management because within the discipline there are a plethora of career opportunities, meaning he could never get bored. 
Our Story/Nikki Goldston
Each corner of the United States, the Caribbean, Europe, Africa, Asia and Australia are all on her list.
"I want to see the world," said Naquita "Nikki" Goldston. "Literally, see the world."
Goldston imagined a life that took her to new and exotic places while allowing her to interact with different people outside a typical office space. That vision is what led Goldston to the School of Hospitality Management.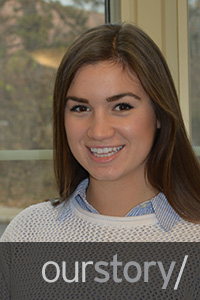 Our Story/Kristina Trainer
Growing up, Kristina Trainer watched her family operate a diner along an interstate in Bethel, Pennsylvania. Years prior, her family made a strategic move by opening a third diner near the latest means of travel. Eventually, she would work as a cashier and server at the one diner remaining in the group, still open for business decades later right along the interstate.
When Trainer came to Penn State as a freshman she had not yet decided on a major, but she was pondering the idea of public relations. It was not until she learned about the School of Hospitality Management (SHM) that she realized her career ambition.
"I had this passion for creating experiences for people," Trainer said.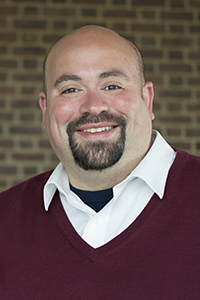 Our Story/Jonathan Colon
When Jonathan Colón meets with a student, he often prompts them to self reflect.
For Colón, it's all about helping students answer the important questions that ultimately point them toward the life they desire.
A simple question, such as "Why did you decide on a four-year degree?" or sometimes, "What are your expectations from college?" may seem to have an obvious answer. However, when a student hears the question they often say, "No one has ever asked me that before" or "I haven't really thought about that before."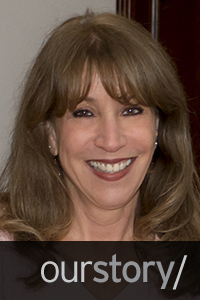 Our Story/Edna Bennett Pierce Prevention Research Center
The mission of the Edna Bennett Pierce Prevention Research Center is to conduct research, engage in outreach activities, and provide training and technical assistance to policy makers and communities on the prevention of problems and the promotion of positive development in children, youth, and families.
Diana H. Fishbein, director, said the center continues to contribute to the development of the next generation of prevention scientists.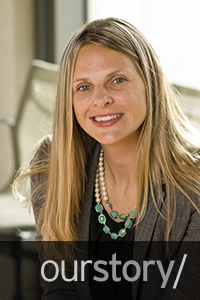 Our Story/CCOR
Research centers in the College of Health and Human Development are dedicated to improving human health through innovative research. This is the story of the Center for Childhood Obesity Research (CCOR).
The mission of CCOR is to conduct interdisciplinary research that informs successful childhood obesity prevention programs, which can then be shared with public health and clinical practice professionals. Research at CCOR ranges from observational studies to randomized controlled trials, to dissemination and implementation research with community partners.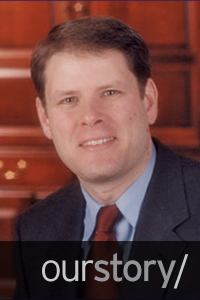 Our Story/CHCPR
The College of Health and Human Development is home to a research center that focuses on health care and how it impacts people. The Center for Health Care and Policy Research (CHCPR) helps private and public decision-makers to develop cost-effective services and programs that improve people's health.
 "CHCPR specializes in understanding how policy impacts health, and its faculty and research work to study the impact of policy on health outcomes and to understand how policy can best be shaped to maximize the health of populations and the value for dollars spent," said Dennis Scanlon, the center's director.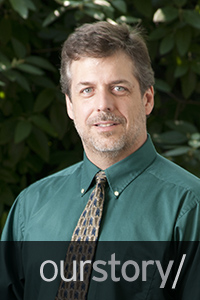 Our Story/Center for Healthy Aging
Research centers in the College of Health and Human Development are dedicated to improving human health through innovative research. This is the story of the Center for Healthy Aging, which supports research, education, and outreach that promotes emotional, physical, and cognitive health in older adults and their families.
The center's vision is to translate cutting-edge aging science into programs and products that transform old age into a long life.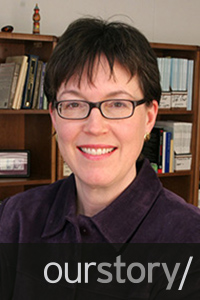 Our Story/The Methodology Center
Research Centers in the College of Health and Human Development are dedicated to improving human health through innovative research. This is the story of The Methodology Center, which exists to advance public health by improving experimental design and data analysis in the social, behavioral, and health sciences.
"We are motivated by knowing that our methodological work enables scientists to explore new research areas and to produce more valid scientific findings, which represent the key to improving public health," said Center Director Linda Collins, who became director in 1994.