Our Story/Emily Pressler
In Central Harlem, New York City, Emily Pressler works to make sure children are supported through college, regardless of their family's income.
Pressler is a senior research associate at Harlem Children's Zone (HCZ), a non-profit organization that aims to end generational poverty in Central Harlem. She obtained her undergraduate and graduate degrees from the Department of Human Development and Family Studies.
Harlem Children's Zone supports children and families through parent educational programs, charter schools, pre-kindergarten programming, after school programs, career preparation, and many more avenues. The work of HCZ is important for a number of reasons, Pressler said. For example, while high school graduation rates are on the rise in the U.S., and college enrollment rates continue to increase, large disparities still exist in college graduation rates based on race and ethnicity or socio-economic status.
Our Story/Courtney McChesney
When Courtney McChesney lost her father to colon cancer in 2012, she noticed an unmet need in her family.
"I have four younger siblings who had trouble coping," she said. "We needed help. We needed support."
Two years later McChesney enrolled in the Human Development and Family Studies (HDFS) program in the College of Health and Human Development to build on a career that will allow her to help families get the support they need from the community. She graduated on Aug. 12 with her bachelor's degree from Penn State.
In addition to her classes in HDFS, McChesney is also ns assistant director at St. Paul's Christian Preschool and Childcare in State College. She plans to continue her role there.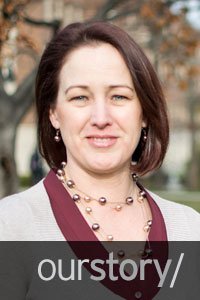 Our Story/Lisa Gatzke-Kopp
Since high school, Lisa Gatzke-Kopp has been fascinated by the workings of the brain, particularly how thoughts drive actions. 
Today, she is professor-in-charge (PIC) of the graduate program in the Department of Human Development of Family Studies (HDFS).
"What's compelling to me is the idea that our thoughts and feelings have a biological basis and that maybe we have less control over that than we would like to believe," she said. "The brain being like any other organ in the body must surely be subject to all of the same problems that can arise in any other system.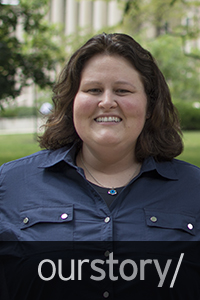 Our Story/Kathleen Zadzora
Through her research, Kathleen Zadzora wants to help create a better classroom environment for children because she believes that education is one of our best tools to strengthen our nation.
A doctoral student in HDFS, Zadzora's research focuses on child development, prevention, and intervention.
"I think for educators to best prepare kids to succeed, we need to support the whole child, and I hope that work my colleagues and I do can in some small way help educators in that endeavor," Zadzora said.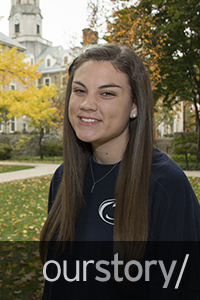 Our Story/Riley Plenge
While a sophomore in high school, Riley Plenge suffered three concussions in one basketball game. The injury also rendered her unable to play her favorite sport. However, Plenge decided there was another way for her to stay in the game.
"I lost one of my major identities," the New Jersey native said. "The injury altered my life. My dream was to play basketball in college. It took me a while to get used to not playing."
A senior in the Department of Human Development and Family Studies, Plenge now helps counsel collegiate athletes, assisting them with life skills and preparing them for careers after college.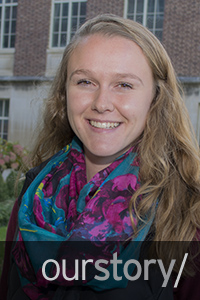 Our Story/Maddison Booge
Following in her late mother's footsteps, Maddison Booge has always dreamed of becoming a teacher. As a senior majoring in Human Development and Family Studies, she is gaining the experience and skills needed to carry out that dream.
"The passion to help others has always been there. No matter what trials and tribulations I have faced, my heart has remained with the children. My personal and professional goal in life is to become a positive, influential teacher of young children," she said.
Our Story/Hayley Ahlefeld
Hayley Ahlefeld, a senior in Human Development and Family Studies, knows the big impact her work can have on little hearts. Through her coursework, it became clear to Ahlefeld which fields she was interested in, specifically a hospital setting working with children.
"I focus on the kids, not their illnesses," she said. "I make sure they have a good day that day."
Our Story/Kenya Crawford
Kenya Crawford wears many hats; HIV/AIDS activist and family relationships researcher are just two of them.
Supported by the College of Health and Human Development, the Human Development and Family Studies senior has been using her passions and experiences to make a difference on campus and overseas.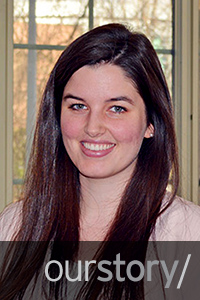 Our Story/Mary Claire Doyle
As the oldest of six children, perhaps it was only natural that Mary Claire Doyle would want to study human development.
Set to graduate in May 2015, the Pittsburgh native holds a double major in economics and human development and family studies, and a minor in business and the liberal arts.
The support Doyle has received in her major has encouraged her to enter the human service workforce to make a difference in how programs are run. 
Our Story/Katelyn Celani
Plain and simple, Katleyn Celani loves people. And with seven other siblings and tons of nieces and nephews, she is no stranger to being around lots of them.
Celani's passion for people coupled with her large family background helped direct her studies, which ultimately became human development and family studies and education. Instead of just seeking one of these majors, Celani pursued both. Penn State's offerings have helped enable her goals.
First enrolled at Penn State – Schuylkill, Celani's schedule was full of education classes. Noting her love of working with others, Celani's adviser recommended she enroll in an HDFS class, she said. The class, which focused on child development, involved a project that gave her the opportunity to observe children, she said.
"I loved the atmosphere," she said.