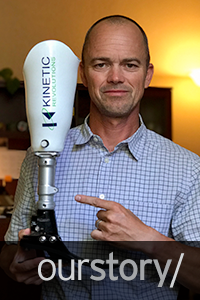 Our Story/Mac Heebner
MacDonald "Mac" Heebner IV, who earned a bachelor's degree in exercise science and MBA at Penn State, watched as a young boy and avid New Orleans Saints football fan tried on his prosthesis leg for the first time, which featured a custom designed socket with a Saints logo.
In that moment, the boy had come a long way after experiencing a partial leg amputation due to a tumor.
Together, Heebner and fellow Penn State alumnus Jeffrey Brandt, who earned a bachelor's degree in psychology at Penn State, were part of a team that helped ensure this boy walked again.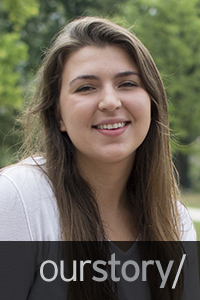 Our Story/Nicole Vairo
When Nicole Vairo, a Kinesiology senior, spent a semester abroad studying sports science in Australia, it became clear to her that the field of kinesiology is widely applicable—at Penn State and across the globe.
"My time in Australia broadened my world view of kinesiology," Vairo said. "It showed me the field of kinesiology has a place somewhere else, other than just here at Penn State. What you learn can be taken out into the field."
Vairo said both her lab and volunteer work helped solidify her choice to pursue public health as a career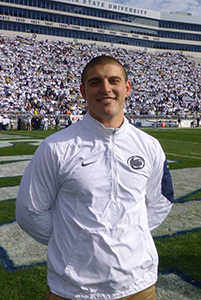 Our Story/Christopher Blaszka
A high school sports injury may have taken Christopher Blaszka out of the game and onto the sidelines, but it also opened his eyes to something else: the world of athletic training.
"I played multiple sports in high school, but my favorite was soccer," Blaszka said. "I was injured during a practice and was brought into the athletic training room. While being treated for my injury over the next week I started asking my athletic trainer what the profession was all about."
After many discussions with his athletic trainer, Blaszka applied to Penn State.
"I got into the athletic training program, and have never looked back," he said.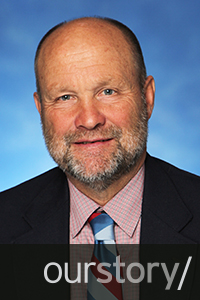 Our Story/Bob Ricketts
Sometimes Bob Ricketts' lessons take place outside of the classroom, like in a kayak or on a sailboat, or while trekking the Alps.
At Penn State since 1977, Ricketts is a senior lecturer in the Department of Kinesiology. According to his students, his classes are more about the person the you became at the end of the semester.
And for many students, he is one of the reasons Penn State was so special for them.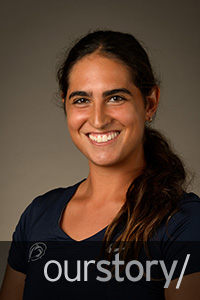 Our Story/Melissa Minniti
A tennis player most of her life, Melissa Minniti has always loved the components of the sport – the game, the fitness, and the functions of the body.
After experiencing an injury and going through recovery treatment, the junior kinesiology major decided she wants to help other people get back on their feet, too.
"There's a joy in seeing injured patients improve," said Minniti. "Being an athlete I know what it's like to be sidelined. I want to be able to give back to people and share what I've learned."
Our Story/Deshawn Baker
An athlete all his life, Deshawn Baker knew there were two places he belonged: on the field catching passes from the quarterback and in the clinic treating patients with sport injuries.
The Philadelphia, Pennsylvania, native chose kinesiology as his primary area of study because he wanted to get into the sports medicine field.
"I have always dreamed of working in health care ever since I broke my leg in ninth grade," he said.
Our Story/Kaelah Shaffer
Even before college, Kaelah Shaffer had opened her heart to help those with medical needs. And when she came to Penn State, it was the Department of Kinesiology that opened doors.
"The major is great preparation for a variety of jobs and careers," she said. "Many of the classes teach about the human body and its many functions. There are a lot of different angles you can take with kinesiology. It's a very holistic major."
In the summer of 2014, Shaffer interned at Walter Reed National Military Medical Center, during which she observed doctors in the traumatic brain injury and amputee units.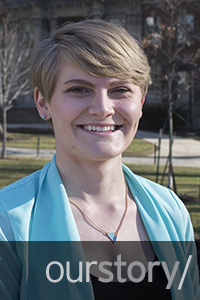 Our Story/Clara Etter
Clara Etter is a senior majoring in kinesiology in the movement science option, with minors in health policy and administration, and bioethics and medical humanities. She said her major has driven her to pursue her passions in science and the health care field, and has taught her the importance of versatility.
"My choice of kinesiology as a major has pushed me to be continuously curious, which is a value I will treasure for the rest of my life," she said.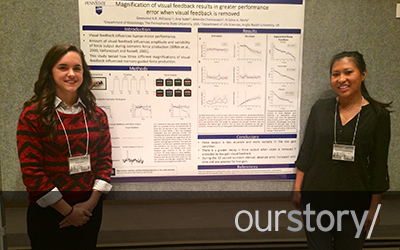 Our Story/Arie Yoder
Thanks to an on-campus research facility, cutting-edge technology and professor mentorship, kinesiology student Arie Yoder is able to use her learning experiences to spearhead her career of becoming a physician assistant.