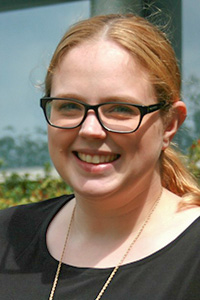 Assistant Research Professor
Dr. Hohman joined the Center for Childhood Obesity Research in August 2014 after completing her PhD in Nutrition Science at Purdue University. Her role at the center is to manage data for INSIGHT and SibSIGHT and to assist in analysis of data from these studies. She is also involved in curriculum development and data analysis for other previous and ongoing studies at the Center. Emily also has a B.S. in Nutritional Sciences from Cornell University. Her previous research training focused on nutritional physiology, and working at CCOR has allowed her to gain additional experience in behavioral research in nutrition. Her research interests broadly include the predictors of diet and weight status in early life and their effects on later health outcomes. On March 1, 2017, Emily transitioned to a faculty position. As faculty, she coordinates research projects designed to promote healthy dietary behaviors among mothers and infants, toddlers, and pre-school aged children; promotes the Center within Penn State through funding agencies, foundations and worldwide; fosters and supports the Center's scientific activities, developing independent research, as appropriate; writing proposals and articles for publication in peer-reviewed journals in collaboration with colleagues at Penn State and elsewhere and participates in Center activities including seminars and conferences.
Dr. Hohman is the recipient of the National Institutes of Health's "10th Matilda White Riley Behavioral and Social Sciences Honors." She presented her research on how INSIGHT Responsiveness parenting intervention is associated with healthier patterns of dietary exposures in infants at the 2017 National Institues of Health Conference in Bethesda, MD.