Many students, both graduate and undergraduate, have worked in the Infant and Child Temperament Lab. Students generally come to the lab to learn about how research is designed and implemented. Undergraduate responsibilities generally include interacting with infants and children during lab procedures, operating audiovisual equipment, inputting data, and coding DVDs of infants, children, and parents. Many of our students have conducted studies of their own using an existing dataset, usually for their Honors theses.
Our undergraduates come from various areas of study. Many study Human Development and Family Studies as a major or minor, but we have had students from Psychology, Biology, Life Science, Biobehavioral Health, Communication Sciences and Disorders and even Engineering.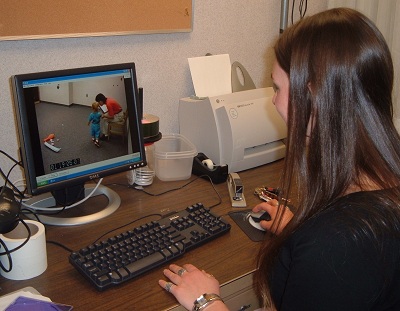 Research experience is valuable for any student, and is especially helpful for those planning to go on to graduate school. All students in the sciences may gain important research skills by helping with our projects; in addition, students interested in development or pediatric medicine may benefit from observing infants and children in the process. Beyond academic opportunities, the Infant and Child Temperament Lab is also an excellent place to meet other students and staff, make friends, and have fun.
Undergraduate students who would like to be involved in our research can earn 2-3 credits of independent study. The requirements include 6-9 hours of lab responsibilities per week and attendance at weekly lab meetings.
If you are an undergraduate interested in working in the Infant and Child Temperament Lab, please contact the director, Dr. Cynthia Stifter (tvr@psu.edu).