Raymond E. and Erin Stuart Schultz Dean of the College of Health and Human Development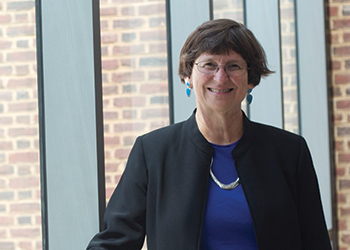 Ann "Nan" C. Crouter's leadership in the college has been characterized by a commitment to outstanding undergraduate and graduate education and to interdisciplinary research that promotes the health and well-being of people everywhere.
Crouter has deep roots at Penn State. She joined the faculty of the College of Health and Human Development as an assistant professor of human development in 1981. She was promoted to associate professor of human development in 1987 and to professor of human development in 1993. During her Penn State career, she served as director of the Center for Work and Family Research from 2002 to 2006 and led the Social Science Research Institute and the Consortium for Children, Youth and Families at Penn State from 2006 to 2007. She has served as Raymond E. and Erin Stuart Schultz Dean of the College of Health and Human Development since June 2007.
Crouter's research focuses on the interface of work and family life in different populations and points of the life span. This research has been highly collaborative and interdisciplinary, and, as a result, she has worked hard to make the college a place where researchers can easily cross disciplinary and departmental lines to work together. Crouter is interested in how people's experiences at work shape not only their own health, development, and relationships, but those of other family members, including their children. She has also paid attention to how family experiences spill over and affect employees' well-being and productivity on the job. In her conversations with faculty and staff members, students, and alumni, work-family issues are a frequent theme, making her substantive background in this area helpful in her role as dean.
Crouter earned a bachelor's degree in psychology and English at Stanford University in 1976 and a Ph.D. degree in human development and family studies at Cornell University in 1982. She has won numerous fellowships and awards, including Penn State's Faculty Scholar Medal for Excellence in the Social and Behavioral Sciences in 2006; the Evan G. and Helen G. Pattishall Outstanding Research Achievement Award from the College of Health and Human Development in 2004; and the President's Award for Excellence in Academic Integration in 1999.
From 1988 to 2007, Crouter was a member of the Board of Directors of the Christian Children's Fund (now ChildFund International), and from 2005 to 2006 she served as the chair of this non-governmental organization serving children, families, and communities in need around the world.
Crouter and her husband have two grown children. Andy is a special-education teacher in Minnesota's Twin Cities where his wife Annaka teaches first grade in a bi-lingual program. Sarah and her husband, Christopher, live in Boulder, Colorado where Sarah manages a program to enroll low-income children and families in health care coverage and Chris works as an attorney. The entire family recharges its batteries in Wyoming, where Crouter's mother and stepfather are ranchers.
More in Dean Ann C. Crouter