Academic achievement, involvement in professional associations recognized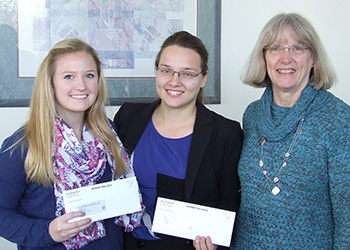 From right, HPA Department Head Marianne Hillemeier presents Lilliya Gortman and Jennifer Bear with their Foster G. McGaw scholarships.
HPA seniors Lilliya Gortman and Jennifer Bear are recent recipients of The AUPHA/Foster G. McGaw Scholarship. This award honors students who demonstrate outstanding academic achievement and involvement in professional associations and service.
The Association of University Programs in Health Administration (AUPHA) provides funding for this scholarship; each student was given $500 to go toward her educational needs.
"This is really unexpected and a very good surprise," said Gortman, who is a Shreyer's Honors student and a caucus director for the Council of Student Government. Bear, who is a member of the HHD Honors Society and the ACHE student chapter, also expressed her appreciation to HPA faculty and the Undergraduate Committee: "Thank you so much; this means so much to me."
HPA Department Head Marianne Hillemeier, who presented the awards to the HPA seniors, said that Gortman and Bear are outstanding examples of students who will positively represent the department in their future academic and professional pursuits.