In The Media
2019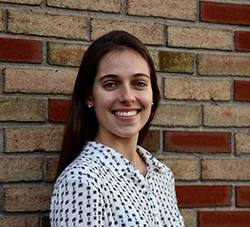 Olivia Romano's application for Summer Research Funding from the College of Health and Human Development has been selected for a $3000 award to support her work this summer. She will be looking at prospective associations between children's baseline response to food portion size and body composition using data our lab is collecting in the Food and Brain Study. Olivia would like to identify relationships between a child's ability to discriminate portion size and any changes in body fat occurring in the year between Visit 6 and Visit 7 in this study. Congratulations Olivia!
---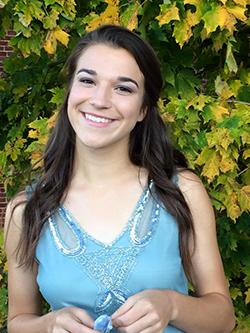 Congratulations to one of our undergraduate research assistants, Gillian Sommerville, on receiving a grant from the Student Engagement Network! The SEN provides support that enables students to follow their passions and connect with their communities. Gillian's grant will support her this summer as she continues to assist with research in our lab, while also working as a tour guide to introduce prospective students to our campus. Gillian says she's "very excited to continue her work in the lab, and hopes to better understand the behind-the-scene processes that go into research of this caliber". We're equally excited to have her help this summer. Congratulations Gillian!
---
2018
The reason why some people find it so hard to resist finishing an entire bag of chips or bowl of candy may lie with how their brain responds to food rewards, according to researchers who found that when certain regions of the brain reacted more strongly to being rewarded with food than being rewarded with money, those people were more likely to overeat. Food for thought: How the brain reacts to food may be linked to overeating
---
Ella Lundquist was the recipient of the John E. Smith Outstanding Senior in Nutrition Award for 2017/2018. Congratulations on this prestigious award Ella!
This is awarded to one student for exemplary leadership and service in the community who is part of the College of Health and Human Development. Ella received this award for her outstanding work in the lab and community. For example, Ella has played a key role in our lab's study team. She is always ready and willing to assist with any task or problem that has come up in the course of our research. Furthermore, Ella has shown to be inquisitive, dedicated, and hard working. For example, Ella was interested in a particular task that was part of one of our larger studies. Ella took the lead and was able to develop her own research questions and hypotheses around this task. This portion of the project, spearheaded by Ella, has resulted in very interesting outcomes related to children's eating behavior. Outside of the lab Ella has excelled in her school work and currently holds a 3.95 GPA and has been on the Dean's List since Fall of 2014. She holds leadership positions at the University's Adventure Recreation program and the Changing Health, Attitudes and Actions to Recreate Girls program. She also serves the community through organizations like the YMCA and programs like Move Your Feeties for Diabetes 5K
---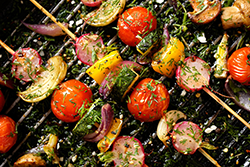 A PENN STATE NEWS article published in 2018 described one of our recently completed research projects related to vegetable intake: "Spicing it up: High school students may prefer seasoned veggies over plain"
2016
A research project completed in our lab was recently highlighted in a PENN STATE NEWS article: New research finds brain activation in children viewing large portions of food.
Shana Adise, a third-year student in Dr. Kathleen Keller's laboratory, is a recipient of the prestigious Kligman Graduate Fellowship Endowment for the 2016-2017 year. Established by Drs. Albert and Lorraine Kligman in 1998, the Kligman Graduate Fellowship Endowment provides funds for outstanding graduate students to focus solely on their research and education. Shana's dissertation research examines how basic decision-making relates to how much kids eat. Shana has received numerous awards such as the Social, Life, and Engineering Sciences Imaging Center (SLEIC) dissertation award for her project titled, "Neurobiological investigations of reward circuitry in children" and the Nutritional Sciences Future Teacher and Mentor award. With an impressive start to her early career, Shana is the Principal Investigator on two projects, which she successfully obtained funding from the Childhood Obesity Training Program (COPT) SEED grant mechanism. You can learn more about Shana on her website: http://shanaadise.weebly.com/
2015
Angela Schlegel, an Undergraduate Research Assistant in the Children's Metabolic Kitchen and Eating behavior Lab, has been featured in the College of Health and Human Development's "Our Story" /our-story/angela-schlegel
Haley Schlechter is also one of our undergraduate Research Assistant superstars! /Our-Story/haley-schlechter
Haley Schlechter was awarded the Edith Pitt Chace Award, which recognizes outstanding students in the College of Health and Human Development. http://news.psu.edu/story/354562/2015/04/27/academics/college-health-and...
Alexandra Close, an undergraduate student in our lab has been featured in a great article.
Alexandra Close has also been awarded the 2015 Erikson Summer Discovery Grant for a project entitled: "Do Maternal Maladaptive Eating Behaviors Relate to the Development of Overeating and Obesity Development in Children?", to be conducted in our lab.
Kaitlin Anderson, a high school senior volunteering in our lab, has been featured in an article in PENN STATE|NEWS.
2012
Dr. Keller's research was showcased several times in 2012: