Department of Nutritional Sciences Newsletter - Summer 2016
Student acceptance rates into internships continue to rise
The undergraduate acceptance rate into dietetic internships was 76 percent for the 2015-16 academic year. Fifty-nine graduating seniors applied to dietetic internship programs. In addition to graduating seniors, fourteen Penn State alums were accepted into dietetic internships for the spring match. Students and graduates were placed all over the country including in programs in Mississippi, Iowa, Kentucky, Ohio, Missouri, and Texas.
Penn State Dietetic Internship
The class of 2016 will graduate on June 22, 2016.
The new 2017 interns, who begin their program in July, include:
Taylor Byrnes, of West Chester University
Sarah Chesky, of Penn State
Maria Gillio, of University of Pittsburgh
Samantha Gogets, of West Chester University
Kate Numer, of Indiana University of Pennsylvania
Emily Rodriguez, of West Chester University
Angela Schlegel, of Penn State
Lauren Woznick, of Indiana University of Pennsylvania
Research highlights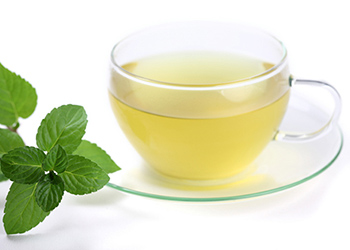 Green tea and iron, bad combination
Green tea is touted for its many health benefits as a powerful antioxidant, but experiments in a laboratory mouse model of inflammatory bowel disease suggest that consuming green tea along with dietary iron may actually lessen green tea's benefits.
"If you drink green tea after an iron-rich meal, the main compound in the tea will bind to the iron," said Matam Vijay-Kumar, assistant professor of nutritional sciences.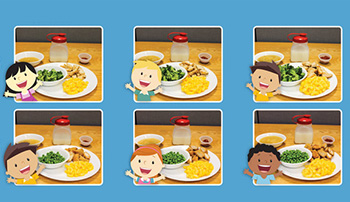 Keep an eye on children's calories, researchers say
Most children overeat significantly when served large portions of calorie-dense popular foods, according to a Penn State study. The results suggest that manipulating calorie content and portion size can substantially reduce children's overall caloric consumption.
Faculty News and Awards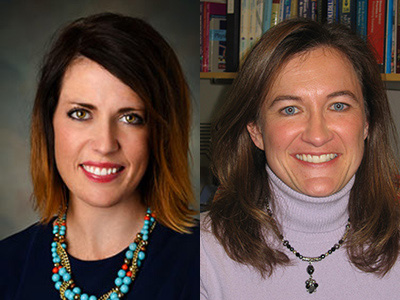 Shawnee Kelly and Laura Murray-Kolb
Gina Pazzaglia NUTR 99, a registered dietitian nutritionist, will join the faculty on July 1 as the director of the online master of professional studies in Nutritional Sciences.
Laura Murray-Kolb, assistant professor, received the Norman Kretchmer Memorial Award in Nutrition and Development for 2016 from the American Society for Nutrition. This award is given to a young investigator for a substantial body of independent research in the field of nutrition and development with potential relevance to improving child health. Murray-Kolb is being honored for her innovative studies on the influence of iron deficiency on mother/child interactions and subsequent child development.
Shawnee Kelly, instructor and academic adviser, is the recipient of the Recognized Young Dietitian of the Year Award for 2015-16 through the Pennsylvania Academy of Nutrition and Dietetics. She was also elected to the office of president-elect for the Academy of Nutrition and Dietetics.
Lynn Parker-Klees was elected president of the Central PA Academy of Nutrition and Dietetics for the 2016–17 year.
Department searches for faculty member to lead undergraduate curriculum
The Department is seeking a full-time, non-tenure track (fixed-term) instructor position, for the 2016–17 academic year, to support its undergraduate curriculum. The appointee will be expected to teach eighteen credits per year including lower and upper division nutrition courses as needed by the department and to participate in service related activities. The position will begin August 12, 2016.
Desired qualifications:
RD/RDN credential
Doctorate in nutrition or related field with teaching experience in higher education
Experience working in a clinical setting
Strong communication skills
Only applications that include a cover letter including a general statement of interest in the position as well as a statement of teaching interests, detailed curriculum vitae with publication list, and contact information for three references will be considered complete by the committee. For more information, contact Rebecca Corwin at rxc13@psu.edu or 814-865-6519.
Doctoral student advocates for scientific research in Congress

J. Kalina Urbanek, second from right
J. Kalina Urbanek, a doctoral candidate, visited U.S. Senators' and Representatives' offices on April 12 and 13 to advocate for increased and sustained funding for scientific research as part of the Congressional Visit Day (CVD). The event was organized by the Penn State Science Policy Society, which is part of the larger National Science Policy Group (NSPG).
Urbanek attended with other Penn State participants, Chris Rumble and Grayson Doucette, both doctoral candidates, from the Department of Chemistry.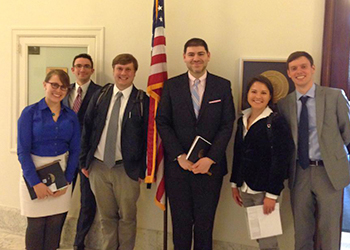 J. Kalina Urbanek, second from right, visited U.S. Senators' and Representatives' offices on April 12 and 13 to advocate for increased and sustained funding for scientific research. She traveled with Chris Rumble and Grayson Doucette, both Ph.D. students from the Department of Chemistry.
The first day of the event was spent learning how to communicate science to a general audience. The second day consisted of the visits to Senators' and Congressmen' offices, Urbanek said. The Penn State group visited the offices of Senators Bob Casey, Pat Toomey and Mark Warner, and Representatives Glenn Thompson and Charlie Dent.
"While on Capitol Hill, students were encouraged to convey their passion for science by talking about their research, time and effort spent in the lab and the impact the government has on more local issues, such as funding for research or jobs at Penn State. We also discussed more general ones, such as the health of people around the globe," Urbanek said.
"My task was to talk about the problem of Vitamin A deficiency in low-income communities and the impact of publicly sponsored supplementation programs," she said. "The trip was a great learning experience and I highly recommend it."
SNA promotes National Nutrition Month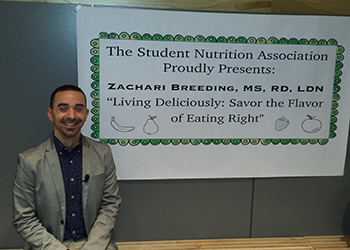 Zachari Breeding
The Student Nutrition Association promoted National Nutrition Month in March with a variety of events on campus. An endowment grant from the College of Health and Human Development funded the events.
Three of the events included:
Students handed out fresh fruit and nutrition information at a booth in the HUB-Robeson Center
Students hosted a cooking night, themed "Savor the Flavor of Eating Right," which included hummus and fresh vegetables, talapia and red quinoa, and chickpea chocolate chip cookies. Students attended at no cost, but were asked to bring non-perishable food donations for the State College Area Food Bank.
Zachari Breeding, a chef and registered dietitition at Drexel University College of Medicine, spoke to about 225 students in the Biobehavioral Health building on campus. His discussion focused on healthy eating strategies, and simple, tasty ways to prepare healthy food.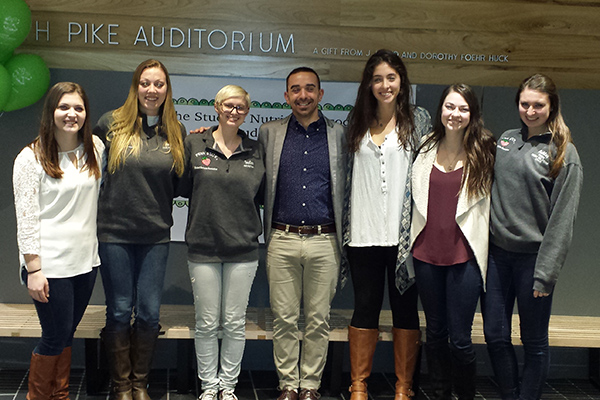 From left: Samantha Twaroski, Angela Schlegel, Taylor Moyer, Zachari Breeding, Alexandra Close, Allison Witmer, and Ashley Madura.
Graduate student news
Involvement with Childhood Obesity Prevention Training (COPT) and the American Society for Nutrition (ASN)
COPT
Shana Adise, Ph.D. candidate in the Childhood Obesity Prevention Training (COPT) fellowship, was principal investigator on the COPT SEED grant titled, "The Role of Reward and Inhibitory Control Pathways in Overeating in Healthy and Overweight Children," and co-investigator on the COPT SEED grant, "Examining the Relationship between Puberty and Reward Sensitivity in Overweight and Healthy Weight Adolescents."
She also received the following awards:
Drs. Albert and Lorraine Kligman Graduate Fellowship 2016-2017
Department of Nutritional Sciences Future Teacher Award 2016
Department of Nutritional Sciences Graduate Student Travel Award 2016
University Office of Global Programs Graduate Student Travel Grant 2016
College of Health and Human Development Professional Development Endowment Travel Award 2016
Social, Life, and Engineering Sciences Imaging Center (SLEIC) Dissertation Award 2016-2017
Over the past five years the COPT SEED grant has funded sixteen graduate students in the Departments of Nutritional Sciences and Human Development and Family Studies. Co-directors are Kathleen Keller, assistant professor, and Jennifer Savage Williams, assistant professor and interim director of the Center for Childhood Obesity Research.
Students in the COPT presented their research findings at the annual meeting of the American Society for Nutrition (ASN) in April, in San Diego, California.
COPT is an interdisciplinary pre-doctoral graduate training program that spans several units in the College of Health and Human Development. The program aims to prepare a new generation of scholars to address the issue of childhood obesity.
ASN
Graduate students in the program worked with local public television WPSU to create a video describing their studies. Barbara Rolls, director of the training program, showed the video in a presentation about the Penn State training grant at the ASN meeting. The students have also developed a blog that describes their activities.
Katherine Balantekin, Laural English and Samantha Kling, doctoral students, were chosen to participate in the ASN Emerging Leaders in Nutrition Science Poster Competition. Stephanie Nicole Fearnbach, Ph.D. student, received the travel award from the ASN Energy and Macronutrient Metabolism Special Interest group, and Balantekin was a finalist in the ASN Translational Research Award Competition.
Research and awards
Abstracts by Mihaela Ciulei, doctoral student, and Sam Scott, postdoctoral scholar, were accepted for the "Nutrition and Child Development: Through the Lens of Iron" Symposium, to be held at the University of Michigan in June 2016.
Anita Subramanian, student in the department, will pursue a two-month summer internship at the MAMTA Health Institute for Mother and Child, New Delhi, India.
Hannah Cornman, a dietetic intern, received the Outstanding Dietetic Student –Internship award from the PA Academy of Nutrition and Dietetics.
Undergraduate student news
Megan Lasko received the Alumni Recognition for Student Excellence Award.
Karrie Rice served as the undergraduate student marshal representing the Department of Nutritional Sciences for spring 2016 commencement. Rice, daughter of George and Sheri Rice, of Mount Joy, Pennsylvania, was a member of the Student Nutrition Association and the Kinesiology Club. She received the President's Freshman Award, as well as the Bayard D. Kunkle Scholarship, Blake and Linda Gall Scholarship, Lillian VanDyke Scholarship, Bunton Waller Scholarship, and the Generation Federation of Women's Club Scholarship. She was a student nutrition assistant for Penn State Housing and Food Services at University Park, and a dietary aid and foodservice volunteer at the Pinnacle Health Community Hospital in Harrisburg, Pennsylvania.