Soundscapes — Studying Soundscapes in Denali National Park and Preserve
How do manmade sounds, such as propeller planes, helicopters, and buses, impact visitors' experiences at National Parks? Faculty members and graduate students in the Department of Recreation Park and Tourism Management at Penn State are working to better understand how such noise influences the visitor experience.
In 2011, researchers conducted a study within Denali National Park and Preserve to better understand how manmade sounds impact back-country users, such as hikers off the beaten path and mountaineers. In 2016, researchers returned to Denali analyze how front-country users, who are in high-profile areas such as the Visitor Center or popular hiking trails, feel about the sounds that they hear.
Peter Newman, professor and head of the Department of Recreation, Park, and Tourism Management, has dedicated his life to the national parks. He and a team of students — Lauren, Heather and Alex – recently ventured to Denali National Park to study the role of sound in the park. Through social science research, they are examining the impact that human-made noise can have on wildlife and humans within the park.
Researchers used innovative methods to understand visitors' perceptions of the front-country soundscape. Two different survey instruments were deployed simultaneously throughout the summer. One method, called dose response, utilized sound monitors placed in the woods and other areas at the park.
The technique allowed researchers to collect local sound levels while simultaneously surveying hikers on trails and people outside the Visitor Center to rate how acceptable, annoying or pleasing the sounds were during their experiences.
The second method utilized various recordings of man-made sounds. Respondents were asked to listen to recordings through noise canceling headphones, and then rate the sounds. This allows researchers to have empirical evidence of what sounds are heard at the park coupled with visitors' exact responses to various levels of those sounds.
National Parks are mandated to protect natural sounds for both wildlife and visitor experience. Park managers are interested in the experiences visitors have in relation to both natural and manmade sounds; results, which researchers are still analyzing, will be used to inform park planning and policies for the park to ensure protection of the visitor experience as well as ecological conditions in Denali.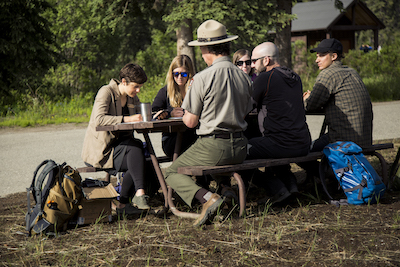 National Parks: An Interdisciplinary Lab
Peter Newman, professor and head of the Department of Recreation, Park, and Tourism Management at Penn State, describes National Parks as the ultimate interdisciplinary laboratories because such settings bring together scientists with varying backgrounds to find answers to questions that impact the world.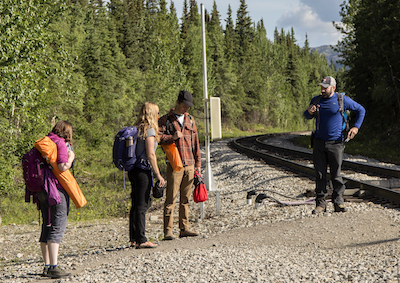 The Graduate Student Experience
Lauren Abbott, a doctoral candidate in the Department of Recreation, Park, and Tourism Management at Penn State, says conducting research at a National Park makes her feel inspired and excited about what she's learning in graduate school.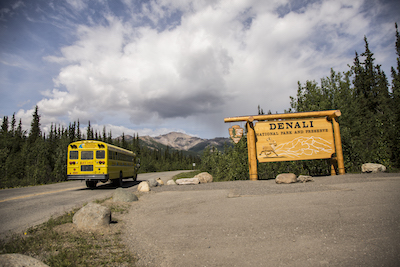 Social Science and the National Park Service
Rose Keller is one of only three social scientists stationed in a National Park Unit. She values the collaboration between National Park Service, universities - including Penn State - researchers, and graduate students in order to make good decisions, stay connected, and stay relevant.