Internships
Current students in the PGM program have the distinct advantage taking part in five internships during their course of study. These five internships will provide you with sixteen months of experience and skill building at locations across the country. All internships are paid with an average pay of $10.20 per hour.
Spring Break Trip to Scotland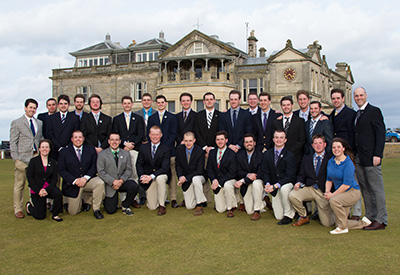 The second week of March is always a special week for many of our students in the PGM program. While some university students may desire a warm destination for spring break, many of our students prefer to partake in an experience at some of the world's top golf destinations, the Home of Golf, St. Andrews, Scotland. Throughout the spring semester leading up to the trip, you meet weekly as a class to prepare for the trip to gain an understanding of the history of Scotland, the history of golf, cultural, awareness, golf course architecture, and golf facility design. While in Scotland, the students gain a better understanding of the golf industry from an international perspective, experience the history and culture of Scotland, and get to play some of the most historic and best courses in the world, including Carnoustie, Castle, Crail, Jubilee, Muirfield, and the Old Course.
Curriculum
In addition to the general education courses, such as math, english, public speaking, and science, the PGA Golf Management Program requires completion of the Recreation, Park and Tourism Management core and five (5) internships. To further prepare you for a career in professional golf management, several courses with a strong business focus are required. Among these courses are:
Financial and Managerial Accounting
Legal Environment of Business
Finance
Hospitality Managerial Accounting
Supply Chains
Turf Grass Management
Club Management and Operations
Human Resource Management
Marketing
Business Planning and Golf Operations Management
Management and Organization
These courses are designed to help you be successful in a number of fields related to the golfing industry, including head golf professional, general manager, teaching professional, golf coach, tournament director, sales or marketing specialist with a major golf manufacturer, or an owner of a golf shop, practice facility, or golf course.
In addition to the courses that you will take, Penn State offers world-class facilities, internship opportunities, career placement assistance, and scholarships. We look forward to meeting you and hope you will schedule a visit.
With the completion of the academic program each student receives a bachelor of science (B.S.) in Recreation, Park and Tourism Management with an option in PGA Professional Golf Management.
Recommended Academic Plan
Smeal College Business Fundamentals Certificate
The new Smeal College Business Fundamentals Certificate provides students with a broad foundation in business and includes courses in Accounting, Economics, Finance, Supply Chains, Marketing, Management, Legal Environment of Business, and Statistics. This certificate can be fulfilled along with the golf management option, as many of the courses are required in both programs.
PGA Educational Requirements
The PGA of America's PGA Golf Management Program requirements are integrated into select courses at Penn State. In addition, students will also be required to complete a number of seminars and workshops. During the various PGA courses, students will complete the PGA assessment testing and create individual portfolios. The PGA testing will provide students with the opportunity to demonstrate, through a variety of examination formats, their competency in a number of academic and technical areas that are covered in the Penn State courses and PGA Seminars.
More details on the PGM Program can be found on Penn State's University Bulletin page or contacting the department.
Scholarships
The College of Health and Human Development (HHD) and the PGM Program awards scholarships on the basis of academic achievement, financial need, school/community activities, leadership positions, and work experience.
Some of the awards through the College include:
Anita N. and Fred M. Coombs Scholarship in Professional Golf Management
Pamela Nicholson-Dadey and Kevin Ryan Dadey Memorial Scholarship in Professional Golf Management
Mills Family Scholarship
Jonathan and Judy Mills Trustee Scholarship
Richard Althouse Trustee Scholarship
Mason and Juliet Champion Award for Creative Thought
Professional Golfers' Association of America Diversity Award
Fred M. Coombs Scholarship
Donald Ross Sportswear Award
RPTM Outstanding Student Award (PGM Option)
Health and Human Development Student Service Award
Frank B. Guadagnolo "Pride of Lions" Student Award
PGM Alumni "Pride of Lions" Golf Professional of the Year Award
PGM Alumni Emerging Professional Award
Frank B. Guadagnolo Excellence in Mentoring Alumni Award
Activities and Organizations
As a current student, you have unlimited access to thirty-six holes of championship golf on campus and short game practice areas and award-winning area golf courses. Plus you will have the opportunity to participate in PGM Tournament Series, a series of thirteen competitive golf events throughout the fall and spring semesters, which are designed to help students become better players and meet their fellow classmates.
Another way for students to meet and network is through the PGM Student Society. This group offers all Professional Golf Management students to openly discuss relevant golf related issues.