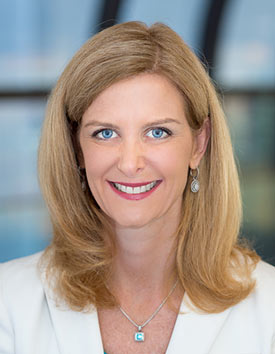 Katherine Lugar is president and chief executive officer of AH&LA. As the head executive of the largest trade association representing the U.S. lodging industry, Lugar implements and directs AH&LA's services and works directly with the volunteer officers and board of directors in determining the industry's major strategic initiatives. She also oversees AH&LA's two affiliate organizations, the American Hotel & Lodging Educational Foundation (AH&LEF) and the Educational Institute (EI).
Lugar comes to AH&LA with more than 20 years of experience in private sector public affairs and on Capitol Hill. She previously served as executive vice president, public affairs, with the Retail Industry Leaders Association (RILA). While there, she was principal contact for the federal government affairs team and political outreach program and positioned RILA as the premier organization on the retail industry's core priorities, including workforce, healthcare, tax, trade, supply chain issues, asset protection, and credit and finance issues. She was also principal contact for the association's government affairs committee, and was instrumental in doubling the size of the Retail Leaders PAC. Her tenure at RILA was marked by several significant accomplishments, including the development and execution of a major and successful campaign to regulate debit swipe fees (hailed by Politico as the biggest legislative battle of 2011); and the creation and implementation of a dual state-federal campaign to level the playing field on sales tax collection.
Before joining RILA, Lugar was vice president of federal government relations for Travelers Insurance, serving as the company's chief representative before Congress and the administration. She has also served as vice president of legislative and political affairs at the National Retail Federation, where she led efforts to update decades-old overtime regulations, championed bankruptcy reform legislation into law and supervised the association's political and grassroots outreach programs. Lugar's career in Washington began on the staff of Indiana Congressman Tim Roemer.
Lugar is a graduate of The University of Colorado - Boulder.