Our Story/Mary Claire Doyle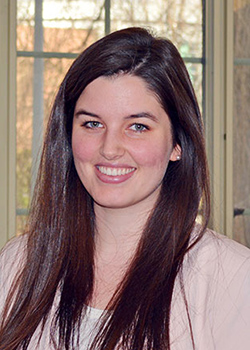 March 2015
Mary Claire Doyle
As the oldest of six children, perhaps it was only natural that Mary Claire Doyle would want to study human development.
Set to graduate in May 2015, the Pittsburgh native holds a double major in economics and human development and family studies, and a minor in business and the liberal arts.
The support Doyle has received in her major has encouraged her to enter the human service workforce to make a difference in how programs are run, she said.
More than 4,500 Penn State students are enrolled in the College of Health and Human Development (HHD) studying a wide-array of fields, each committed to the concept of improving the quality of life for others. Doyle, who found a home in the Department of Human Development and Family Studies (HD FS), is one of those HHD students, and this is her story.
Doyle started out in anthropology and global and international studies, but her adviser recommended she sit in on an HDFS class.
"I loved how interdisciplinary everything was," she said.
From there, Doyle knew her calling was in HDFS because of her passion for human service.
Doyle, a Schreyer Honors Scholar, has been involved with numerous service projects and organizations throughout her college career. One such organization is the Ronald McDonald House Charities of Pittsburgh. As an intern there in the summer of 2012, Doyle created framework for Lilli's Happy Pad project, a program that buys iPads that can be rented by families during their stay at the Ronald McDonald House. Doyle's tasks included conducting research, calculating a budget, contacting vendors, drafting guidelines and generating a proposal.
Since 2011, Doyle has been involved with the Newman Student Catholic Association, and currently holds the role as president. She leads a board of 16 people in planning meetings and events. She also manages attendance at club events and analyzes data to increase participation and satisfaction for general meetings and special events; designs and facilitates meetings; plans activities, meals and logistics for Fall retreats; and develops a weekly meeting curriculum for Bible study.
Doyle also held an internship at the Allegheny County Department of Human Services: Office of Children, Youth and Families, where she conducted reviews and site visits on group homes, prevention programs, foster care agencies, and rehabilitation and in-home services.
Additionally, as the former alumni relations chair for Penn State Project Haiti, Doyle traveled to Haiti in March 2013 to assess the needs of and build relationships with local residents.
And currently, she is writing her thesis on the cost analysis of a human service prevention program in South Africa. Through this, she is studying the importance of economic analysis applied to human service programs.
In the classroom, Doyle has learned many valuable aspects about the human service industry, such as how having the right service in place can make an enormous difference. Evidence-based practices paired with economic considerations can help organizations run more effectively and can serve more people, she said, citing her experience visiting rehabilitation treatment facility during her Department of Human Services internship as an example.
Doyle said her experiences, coupled with her courses in HDFS, have really helped her gage the industry.
"I've realized there is so much inefficiency the administration of human services," she said.
Doyle wants to change that once she enters the workforce.
Following graduation, she has secured a position as a human capital analyst at Deloitte Consulting in Camp Hill, Pennsylvania.
In addition to HDFS, there are a variety of areas for students to study within HHD through the Departments of Biobehavioral Health, Communication Sciences and Disorders, Health Policy and Administration, Kinesiology, Nutritional Sciences, Recreation, Park, and Tourism Management, and the School of Hospitality Management.