Do you have an interest in wines and wonder why you like some better than others?
Do you want to learn about viniculture and viticulture and the sensory evaluation of wine?
Join us beginning January 2020 for Wine Appreciation!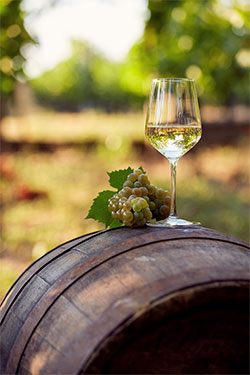 Meets Wednesdays, 4:40 p.m. - 6:35 p.m., January 15, 2020 - April 29, 2020 104 Keller Building on the Penn State University Park Campus
The course introduces students to viniculture and viticulture and the sensory evaluation of wine. It concentrates on the sensory elements of wine that make it a global economic and culture phenomenon with emphasis on Old World and New World traditions, food pairing, and trends in the wine business. It discusses the climates, topographies, and other natural conditions that make some regions more suited to certain wine cultivation than others and how these conditions are replicated around the world. It covers the important role wine plays in the delivery of dining experiences in both hospitality enterprises as well as retail and social experiences. The wine industry is replete with specific and technical vocabulary that when mastered enables participants to engage in wine activities knowledgeably and successfully, whether as a consumer, host or professional.
This class combines Penn State students taking the class for credit with adults from the community taking it for non-credit. Non-credits students have the option to test their learning each week with online quizzes.
Fees and Registration:
Non-credit registration fees are:
$399 – PSU affiliated
$429 – General Public
In addition to instruction and tasting, all participants will receive a one year free subscription to Wine Spectator.
To register click.
Registration deadline is 11:59 pm, January 14, 2020. For registration after this date, contact Lisa Clapper at LRC139@PSU.EDU.
If you need to cancel your registration, please send your written request no later than December 21, 2019 by email to LRC139@PSU.EDU. A $50 administrative fee will be charged for your cancellation.
Questions:
Registration Questions? Contact Lisa Clapper at 814-865-8898.
For program content questions, contact Donna Quadri-Felitti, PhD, Marvin Ashner Director and Associate Professor, School of Hospitality Management dlq3@psu.edu