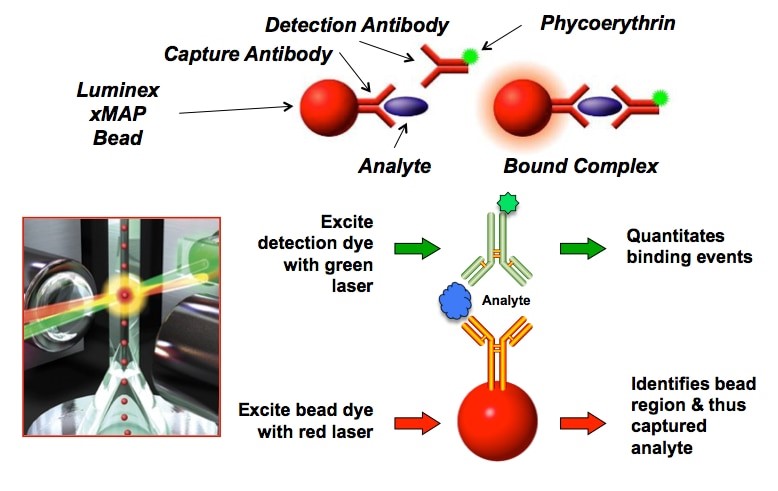 Luminex® xMAP® Technology is a multiplex immunoassay platform which utilizes beads as the solid-phase (where the analytes stick to). In standard ELISA, the binding of analytes occurs in the bottom of a 96-well plate uniformly coated with a single antibody. In Luminex assays, a polystyrene bead is coated with antibody instead, making the bead the solid-phase, and remains free flowing in assay. This allows for some beads to have different coatings of antibody than others and thereby bind different analytes while in the same solution. Each different analyte bead is fluorescently dyed specifically so that, as they are read, they can be identified. In the case of magnetic beads, a magnetic substance is also attached to the polystyrene bead allowing for easier, more trustworthy, and more efficient handling both during the assay and reading steps.
Typically referred to as panels, Luminex assays allow multiple analytes to be tested at the same time. This can create assays that are higher throughput, less costly, and offer more information from one sample than a typical ELISA. Basic screening panels can detect up to 100 different analytes from a single sample. Validated panels are smaller and more specific to researcher's goals. Common panels exist for inflammation (e.g. IL-1b, IL-6, TNF-a), cardiovascular (e.g. CRP, SAA, VEGF), neurosciences (e.g. amyloid beta, tau, NGF), metabolism (e.g. glucagon, c-peptide, GLP-1), cancer (CD28, GITR, HGF), and various others. Custom panels can be created to further specify analytes and can lower costs.
BCL testing fees and reader fees are per plate. Reader fees are included with testing fees. When searching for kits, one should seek out analytes that have been validated together as one panel for the type of sample being tested so that results can be accurate, trustworthy, and repeatable.
BCL Equipment
Available for use in the BCL to read Luminex (xMAP) Platform assays, the Bio-Plex® 200 uses  Bio-Plex Manager™ Software to read both polystyrene and magnetic bead assays and can perform up to 100 different analytes in a single well. A small fee is assessed for use of the machine to cover sheath fluid, calibration reagents, verification reagents, and maintenance costs. 
Luminex xMAP assay kits are sold through several manufacturers. This tool helps find kits based on the analyte of interest.
Luminex xMAP assay manufacturers