Alumni and Industry Updates
Xenia Hotels & Resorts and Steelite executives named Conti professors
For the 2018-19 academic year, Barry Bloom, president and chief operating officer of Xenia Hotels & Resorts in Orlando, Florida, and John Miles, president and CEO of Steelite International in New Castle, Pennsylvania, will serve as Conti professors.
IFMA's Golf and Silver Plate Awards, the highest possible operator awards in the foodservice industry, acknowledge outstanding operators in the industry each year. Winners are chosen by a rigorous process that includes evaluation by a jury of immediate past winners, chief editors from leading foodservice publications and industry experts.
Penn State students and faculty were also in attendance to support Huse at the awards dinner. Kysesen Maravich and Hoacheng (Ares) Shi were hosted by IFMA and, Donna Quadri-Felitti and Brian Black were hosted by Hugh Roth '87 HRIM, SVP, chief customer and business development officer at PepsiCo Global Foodservice.
Faculty/Research Topics
Student Topics
Student wins HAMA Case Competition
Curt Fletcher was the grand prize winner of this year's Hospitality Asset Managers Association (HAMA) case competition. Students from hospitality schools including Boston University, Cornell University, Michigan State University, and University of Denver participated in the student competition.
Fletcher's case was, "Restaurants in Hotels: Do They Truly Add Value?" As the winner, Fletcher presented his case at the HAMA annual conference in Washington, DC, in April to hundreds of hotel real estate executives. The keynote speaker for the conference was Katherine Lugar, president and CEO American Hotel & Lodging Association and Penn State Conti Professor.
John O'Neill, professor and director of the Hospitality Real Estate Strategy Group, served as adviser for Penn State students in the competition.
Students attend National Restaurant Association Show in Chicago
Twenty students and eight faculty members attended the 99th annual National Restaurant Association Show held in Chicago, Illinois, May 19-22.
The students participated in educational sessions and exhibits at the McCormick Convention Center, sampling the latest in food trends, and testing new innovations in products and technologies. Each year the restaurant show draws more than 40,000 attendees and 2,300 exhibitors.
Students also participated in a roundtable discussion with Penn State Conti professors Barry Bloom, president and COO, Xenia Hotels & Resorts; John Miles, president and CEO, Steelite International, Dawn Sweeney; president and CEO, National Restaurant Association; which was moderated by Donna Quadri-Felitti, Marvin Ashner director, School of Hospitality Management.
The 30th anniversary of the Walter J. Conti Visiting Professorship was also celebrated at the event held at the Hyatt Regency McCormick Place with special remarks from Leighan Blaede Conti '03 HRIM, director of revenue management, InTown Suites.
In conjunction with the show, Rob Grimes '80 FS HA, president and CEO of The International Food and Beverage Technology Association (IFBTA), hosted the 31st annual Celebration of Technology Reception at ZED 451 Restaurant. Penn State students were introduced to technology executives representing major restaurant and hotel brands, and suppliers.
More than thirty alumni gathered for an annual Chicago reception at Remington's and hosted by Mike Dunlay '83 FIN, owner of 4 Star Restaurant Group.
Special tours were also arranged by Izzy Shaindlin, recruiter coordinator, Lettuce Entertain You Restaurants showcasing their unique restaurant concepts in Chicago.
HHD Alumni recognize SHM student with Excellence Award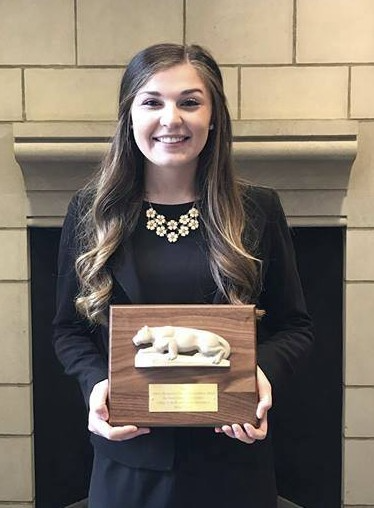 Briana Tedesco '18 received the HHD Alumni Society Alumni Recognition for Student Excellence Award. This award by the College of Health and Human Development Alumni Society is presented to a senior in each academic unit for outstanding performance, achievement, and contributions within his/her major.
Alumni News
Robert Carl '85 HRIM recently started a new job as senior director, Construction and Project Management at Phoenix American Hospitality in Dallas, Texas. Previously he was senior vice president for FelCor Lodging Trust.

Jim Pinchock '95 HRIM recently started a new job as general manager at Hilton Garden Inn Washington DC/Greenbelt. Previously, he was general manager for Baywood Hotels in Baltimore, Maryland.

Pietro Pezzella '11 HRIM was recently promoted to director of operations at Interstate Hotels & Resorts in Pittsburgh, Pennsylvania. Previously, he was executive housekeeper with the same company.

Justine Laniewski '12 HRIM recently started a new job as area director of sales at Shaner Hotels in State College, Pennsylvania. Previously, she was a group sales manager for Marriott International.

Kayla Molitoris '12 HRIM recently started a new job as food and beverage director at Bent Creek Country Club in Lancaster, Pennsylvania. Previously, she was the clubhouse manager for LedgeRock Golf Club in Mohton.

Alex Drost '13 HRIM was recently promoted to director of finance for the Four Seasons Hotel London at Ten Trinity in London, England. Prior to this he served as assistant director of finance for the Four Seasons New York Downtown.

Allie Wilson '14 HRIM recently started a new job as project manager, creative operations at HelloFresh in New York City. Previously, she was a marketing project manager for Chipotle Mexican Grill.

Tianna Whalen-Whiting '16 HRIM was recently promoted to assistant foodservice director for Aramark in Newark, Delaware. Previously, she was a concessions manager with Aramark.
Ian Andrew '12 HRIM was recently promoted to business/catering manager with Professional Sports Catering for the New Hampshire Fisher Cats in Manchester, New Hampshire. Previously he was the head chef with Professional Sports Catering for the State College Spikes.