Nutritional Sciences Newsletter - Fall 2019
Faculty Updates

A. Catharine Ross, professor and head of the department, published a review on the history and future of dietary reference intakes, Milestones in DRI Development: What Does the Future Hold,? in the journal Advances in Nutrition. She coauthored a paper with researchers at St. Jude Medical Research Center, Memphis, showing that baseline levels of serum vitamin A and D were determinants of the antibody response to influenza vaccination (Viruses 2019: 11(10). doi: 10.3390/v11100907). In October, she lectured to the Japan Society for Retinoids Research in Tokyo, and presented on Vitamin D in the US at Shimadzu Corp. in Kyoto and Jikei University Medical School in Tokyo. Her lab has also welcomed a new post-doctoral scholar, Ayasa Tajima, who will be conducting research under Ross' guidance along with Greg Shearer, associate professor.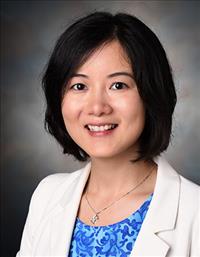 Muzi Na, assistant professor and Broadhurst Career Development Professor for the Study of Health Promotion and Disease Prevention, just had the paper "Food insecurity and cognitive function in middle to older adulthood: a systematic review" published in the journal Advances in Nutrition. The review summarized existing evidence linking food insecurity and general or specific cognitive functions in middle and older adulthood. 
Xiang Gao, associate professor, became the chair-elect of the Nutritional Epidemiology Research Interest Section, American Society for Nutrition in September, 2019. Gao is also a chair of the Genetics & Environmental Risk Factors Working Group, part of the Parkinson Study Group Working Group, a non-profit group of physicians and other health care providers from medical centers in the United States, Canada and Puerto Rico experienced in the care of Parkinson patients and dedicated to clinical research of Parkinson disease.
Denise Lawson, instructor and dietetic internship director, was one of two recipients of the College of Health and Human Development's Evelyn R. Saubel Faculty Award. The award recognizes faculty members for service to students, with criteria including a commitment to human service, accessibility as an adviser, and a caring, professional style. The award was established in honor of Evelyn Saubel '35 H EC, a longtime assistant to the dean in the former colleges of Home Economics and Human Development.
Undergraduate Program Updates
The Nutritional Sciences Dietetics Program successfully met all accreditation standards during the reaccreditation visit in October.
The Accreditation Council for Education in Nutrition and Dietetics (ACEND) visited Penn State's Didactic Program in Dietetics (DPD) in mid-October to assess the program for reaccreditation. Mary Dean Coleman Kelly, associate teaching professor and director of the undergraduate dietetics program, led efforts to prepare for this important visit by training staff, writing reports, gathering data and organizing representatives from key groups (administrators, faculty, staff, students, etc.) to meet with the ACEND Reviewers during their three-day, on-site visit.
Reviewers were very impressed with the program, the Advanced Field Experience course (NUTR 495), the expertise of the faculty, the external support of the College and University, and the great commitment of faculty and staff to the students' needs. After reviewing materials and meeting with students, staff members, and faculty members, the reviewers found the program is meeting all accreditation standards and had no recommendations for improvement.
The department sends kudos to everyone who helped to prepare for this visit and who work tirelessly semester after semester to maintain this top-notch program for all of our students interested in pursuing careers as Registered Dietitian Nutritionists (RDNs).
Undergraduate and Graduate Student Updates
Student Nutrition Association Updates
The Student Nutrition Association continues to be a vibrant student group. Cecelia Pritts, SNA president, reports that they had a full house for their fall "Cooking Night" event in the Foods Lab.  They have several programs planned for November including a "Workout Recovery" event with CHAARG, a presentation on the Philadelphia FNCE conference by current nutrition students who recently attended this as part of a new course and a holiday party in December, and have been asked to speak at State College Area High School in December.
In the spring of 2020, the Student Nutrition Association (SNA) will be partnering with the Student Farm at Penn State to host at least two cooking events. One will be targeted to new college students and will feature easy dorm cooking in a mug using only a microwave. The other one will feature ethnic cooking for Native American students on campus.
Students in the SNA have also contacted Moody Culture to see what it is like to produce Kombucha (Gut Health is huge!). They also plan to contact Abba Java about helping them with their Spring health fair. SNA is also looking into hosting a member interest event to make pottery at 2000 degrees, as a way to de-stress. The students have also started the process of planning their end-of-the-year party at Salud Juicery in downtown State College.
Nutrition Department Alumni Society (NDAS) Updates
NDAS Brunch
The Nutrition and Dietetics Alumni Society is hosting their annual alumni and student brunch on February 9, 2020 at the Nittany Lion Inn. The brunch is the same weekend as the College of Health and Human Development's Alumni Mentoring Program kickoff luncheon, which will be on Saturday, February 8.
The brunch will feature a faculty member from the Department of Nutritional Sciences to speak about their research. NDAS will also give out the Outstanding Senior and Outstanding Alumni award. For more information and to register, visit the NDAS Brunch registration page.
We Are Weekend
The Penn State Alumni Association's We Are Weekend will take place June 19-21, 2020. We Are Weekend is the premier Alumni Association summer event designed to give Penn Staters of all ages, backgrounds, and interests an opportunity to customize their weekend schedule and spend time at Penn State with family, friends, and classmates. This weekend is notably special for the 50th class, 1970, as these Penn Stater's are welcomed into the ranks of Penn State Pioneers. For more information, visit the We Are Weekend website.
Nominate alumni for HHD Alumni Awards
The College of Health and Human Development Alumni Society Board is currently seeking nominations for their alumni awards; Alumni Recognition, Alumni Service, Emerging Professional – Undergraduate and Graduate Degree Awards. Please visit the HHD Alumni Award website to find information about each award and to submit a nomination. Feel free to contact Lindsey Zapletal, assistant director of alumni relations, at lmz13@psu.edu for more information
Alumni Contact Information Updates
Please be sure to keep your contact information up to date for information and news from the Department of Nutritional Sciences and Penn State. Contact Nick McCormick, president of the Nutrition and Dietetics Alumni Society (NDAS), at nhm106@gmail.com and cc: Lindsey Zapletal, assistant director of alumni relations in the College of Health and Human Development, at lmz13@psu.edu with updates. You can also update your alumni record directly with the Penn State Alumni Association. 
Nutritional Sciences Alumni Reception at FNCE 2019
Penn State Nutritional Sciences alumni reception at 2019 FNCE.
Close to 100 Nutritional Sciences alumni and students attended the Nutritional Sciences Alumni Reception on October 27, 2019 during the Academy of Nutrition and Dietetics Food and Nutrition Conference and Expo held in Philadelphia, PA. Wonderful conversations and networking was had by all. This annual conference draws nearly 11,000 food and nutrition professionals from around the country.
Master of Professional Studies (MPS) in Nutritional Sciences Update:
The Master of Professional Studies (MPS) in Nutritional Sciences has been up and running for over two years. This summer saw the first three students successfully complete requirements for the program. Join us in congratulating our first class of MPS program graduates:
Tara Shattuck, MPS, RDN
Clinical Dietitian
Brookdale Green Mountain
Lakewood, Colorado
Tara's capstone research project was a quality improvement project that was conducted in order to improve the identification of new patients at risk of malnutrition in a skilled nursing facility. The Mini Nutritional Assessment-Short Form (MNA-SF) was implemented in addition to the current non-validated screening tool, the Crandall Form 101: Dietary Interview Pre-screen (CF-101) and the results were compared. Since the MNA-SF identified a greater number of patients as at risk and as malnourished as compared to the CF-101, it was recommended that the MNA-SF be used in addition to the current screening tool in this skilled nursing facility.
Ryann Mayer MPS, RDN, LDN, CSP Nutritionist II University of Maryland Medical Center Baltimore, Maryland
Ryann's capstone research project sought to improve show-rates to pediatric weight management appointments with a registered dietitian at the University of Maryland Medical Center. Appointment reminders and a produce incentive were the two techniques implemented and both resulted in improvement in show-rates.
Marissa Wickham, MPS, RDN, LDN
Clinical Informaticist/Educator with Information Services
Mount Nittany Medical Center
State College, PA
Marissa's capstone research project looked at using the electronic health record to alert physicians of a malnutrition diagnosis made by the physician. This quasi-experimental study had a 4-week retrospective period used as the baseline to compare to the intervention study. While this study did not produce significantly different results when compared to baseline, it opened up the dialogue for more innovative ways to design & interact with the electronic health record to alert physicians of ancillary department documentation.
Accreditation
Last December, the MPS program received accreditation as a Future Education Model Graduate Program by the Accreditation Council for Education in Nutrition and Dietetics (ACEND). The Future Education Model is a competency-based education model that integrates didactic learning with supervised experiential learning to train entry-level Registered Dietitian Nutritionists (RDN). The Experiential Track of the MPS in Nutritional Sciences is an optional pathway within the MPS program.
Parent & Families explore department
On Saturday, October 12, 2019 over 85 people stopped by the Nutritional Science Department's Foods Laboratory in Henderson Building during the 2019 Parent & Families Weekend to find out more about our programming. Two members of SNA (the Student Nutrition Association) helped update a quiz that challenged visitors to test their nutrition knowledge by spinning a roulette wheel and trying to answer the corresponding nutrition question. Anyone who tried the quiz received their choice of a Penn State Nutritional Sciences pen or pencil, and those who answered correctly were able to choose either a reusable lunchtime salad-keeper or a fold-up reusable shopping bag with our departmental logo. These "grand prizes" were so popular that they were gone by the end of the program. Visitors also toured the teaching kitchen, reviewed sample recipes at each station, and sampled healthy snacks prepared under the supervision of Jennifer Meengs. The visitors loved the Healthy Salsa and Black Bean Brownies samples and many took the recipes home with them.
Black Bean Brownie
Black Bean and Pepper Salsa
Students host "trade show" as part of course
The entrepreneurial side of students enrolled in NUTR 386 (Managing Quality in Food & Nutrition Services) was on display earlier this month as they vied for limited funds by presenting short sales pitches about their ideas for new businesses and services in the fields of nutrition and dietetics. Faculty, staff and student attendees received the same amount of "nutrition bucks" to invest as they make their way through a mock Trade Show. Students will explained their business concepts in short "pitches" to entice investments from the trade show attendees. The number of "bucks" invested in each group's unique ideas by the end of the trade show determined the top business concepts for this year's class.
View the photos from the event on the PennStateNUTR Facebook gallery.
Support the Department
Alumni and friends often find great satisfaction in providing vital future support for Nutritional Sciences students, faculty, or programs. Gift planning may allow you to make a gift of surprising significance, now or through your estate, while realizing financial advantages such as a lifetime income stream or lower estate taxes. To learn more about the options—as well as the benefits to you, your heirs, and your estate—please contact Kathleen Rider, director of development, at 814-865-1064 or kmr8@psu.edu.