Nutrition and Immunity Lab - Research Team
Current Lab Members
Sherry Xu
Sherry received her bachelor's degree in Biological Sciences from Fudan University, China. She is currently a Ph.D. candidate in Integrative and Biomedical Physiology and NIH-T32 predoctoral research fellow. Her research interests focus on the potential immunological mechanisms underlying the cancer-preventive effect by changes in energy balance. Using a murine model of metastatic breast cancer, she is investigating how physical activity and dietary energy restriction may reduce tumor progression by modulating pro- vs. anti-tumor immunity. 
---
Ester Soojung Oh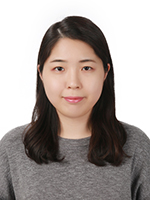 Ester Soojung Oh received her B.S. and M.S. in Nutritional Science & Food from Ewha Womans University, South Korea. She is now a PhD Candidate completing a dual-title degree in Nutritional Sciences and Clinical and Translational Sciences. Her research interests include the effects of nutritional factors on inflammation and immune regulation. She is currently working on a project that aims to determine if consumptions of spices in the context of daily meal consumption can alleviate chronic, low-grade inflammation in adults with overweight and obesity.
---
Shizhao Duan
Shizhao obtained his M.S. in Nutritional Sciences from The Pennsylvania State University in 2018. He studied the role of innate and adaptive immunity in controlling non-immunogenic 4T1.2 tripple negative breast cancer mouse model and 4T1.2luc model. Before coming to Pennsylvania, Shizhao received his M.A. in Nutrition Science from Syracuse University.
---