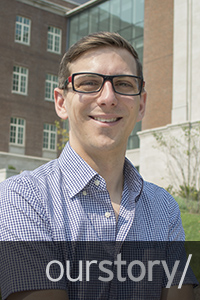 October 2015
It was a diverse combination of experiences that led Nicholas Smith to Penn State.
Before deciding to pursue a doctoral degree in Hospitality Management at Penn State, Smith earned both bachelor's and master's degrees in psychology, put in twelve years of work at Disney World, became a union representative, and worked as a researcher focused on the aging workforce.
"My experience at Disney showed me what a really great workplace looks like as well as some of the challenges within the hospitality industry," Smith said.
As a budding psychology major, Smith focused on clinical psychology, fueled by an innate desire to help others. However, his experiences as a union representative gave him an outlet to advocate on behalf of workers who felt disenfranchised. Eventually, he married these two experiences and began studying organizational behavior so as to provide voice to disadvantaged workers in a systematic and scholarly way.
More than 4,500 Penn State students are enrolled in the College of Health and Human Development (HHD) studying a wide-array of fields, each committed to the concept of improving the quality of life for others. Smith, who found a home in SHM, is one of those HHD students, and this is his story.
Smith pursued his interests as a graduate student at the University of Central Florida where he assisted faculty with studies related to aging employees. While presenting his research, Smith met SHM faculty member Larry Martinez, and found their research interests overlapped. Martinez is now Smith's academic adviser at Penn State. Together, they research employee issues in hospitality, such as chronic pain among hotel housekeepers.
"I had always been involved in advocacy work, and, after working in a research lab as an undergraduate student, I learned about the diversity research being conducted by Dr. Martinez and his collaborators across the globe," Smith said. "I saw this work as a way to further explore injustices and as a method with which to improve conditions for marginalized and at-risk people. Overall, I felt that in doing this work, I could make a real difference."
In addition to SHM, there are a variety of areas for students to study within HHD through the Departments of Biobehavioral Health, Communication Sciences and Disorders, Health Policy and Administration, Human Development and Family Studies, Kinesiology, Nutritional Sciences, and Recreation, Park, and Tourism Management. Learn more about HHD.