Our Story/Courtney McChesney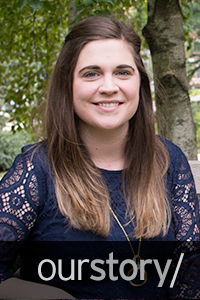 August 2017
When Courtney McChesney lost her father to colon cancer in 2012, she noticed an unmet need in her family.
"I have four younger siblings who had trouble coping," she said. "We needed help. We needed support."
Two years later McChesney enrolled in the Human Development and Family Studies (HDFS) program in the College of Health and Human Development to build on a career that will allow her to help families get the support they need from the community. She will graduate on Aug. 12 with her bachelor's degree from Penn State.
"I want to eventually work with families and children who have a parent with a chronic illness," McChesney said. "There are not a whole lot of resources out there."
McChesney earned her associate's degree in early childhood education from the Pennsylvania College of Technology in Williamsport two years earlier, but took a break from school while her father was ill.
She has also worked as assistant director at St. Paul's Christian Preschool and Childcare in State College since 2015, while raising two small children.
She said she has balanced her many roles with a lot of late nights studying and determination.
"If I know I have to do something, I push through it," she said.
McChesney said her job at St. Paul's has given her a lot of experience that has proved valuable to her degree in HDFS.
"I wear a lot of hats," she said, explaining her role at St. Paul's. McChesney works mostly with part-time staff at the preschool, which includes many HDFS students. She also oversees activities, provides mentorship and acts as family coordinator.
As family coordinator, McChesney connects families at St. Paul's with local social support services.
"I enjoy interacting with the families and providing support," she said. "What I'm doing now is what I want to be doing – providing these support contacts for families."
She said her courses in HDFS provided her with a variety of skills she can continue to use and develop in her role at St. Paul's, one she plans to continue after graduation.
"I learned how to better speak and listen, and how to get more out of a conversation with someone," she said.
Through her courses, McChesney also learned about many of the different support services in the area and what they offer, such as the Centre County Youth Services Bureau, Big Brothers Big Sisters and local adoption agencies.
After graduation McChesney plans to concentrate on building the Child Connection Project at St. Paul's, a program she started that connects the church with preschool families to get them together in social scenes, such as or celebrating birthdays or arranging play groups at the park.
She's also considering eventually earning her master's degree and hopes to one day be in a role to support families with a chronically ill parent.
"My goal is to facilitate that contact, and be that point person," she said.
In addition to her classes in HDFS, McChesney said her advisers and professors supported her and wanted to see her succeed. She said the department, plus playing an active role in the community, has helped solidify her career goals. She encourages other HDFS students to also get involved in the community to get experience in areas that interest them.
"I find it important to be involved with the community because it helps facilitate relationships," she said. "Being involved in the community can give students tangible experience which will make their coursework feel connected to their real life experiences."
There are eight areas for students to study within the College of Health and Human Development:
Communication Sciences and Disorders
Health Policy and Administration
Human Development and Family Studies
Recreation, Park, and Tourism Management