Our Story/Alexandra Wagner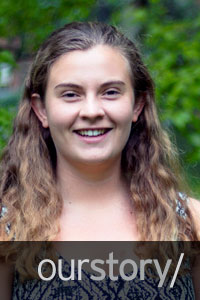 June 2017
Alexandra Wagner grew up in State College. Among the factors that made her decide to stay close to home and choose the College of Health and Human Development and Schreyer Honors College at Penn State were the opportunities to travel far from home.
"One thing that really stuck out to me was their emphasis on a global perspective," Wagner said. "I wanted to be involved in a community that was focused on working with people that weren't just the same people I had grown up around my whole life."
Wagner, who recently completed her sophomore year as a Schreyer Scholar, started at Penn State as a biology major, but as she looked at her four-year plan, decided she was more interested in being able to apply health care and science to "actual human populations." Switching to a biobehavioral health major allowed her to personalize her course schedule and take a variety of health classes, many of which involved communicating with patients.
The department also offered a Global Health Minor, which appealed to Wagner's desires to help others while gaining exposure to other cultures.
"I'd love to be able to spend my life working with people from all different backgrounds and getting to know what they value and learning from that," she said.
Wagner, who has a Spanish minor, visited Brazil and Colombia through Schreyer's globalization program, spending two and a half weeks in each country. The trip had an education focus; Wagner and other students interacted with local students from preschool age to those at the university level. A visit with a group of older women in a Brazilian slum made even more of an impression.
"They had really traumatic backstories – sexual assault, domestic violence, murders in their families," Wagner said. "We were able to see how they had made a community for themselves and could find healing through singing. That was something I had never been exposed to before."
As part of the Global Health Minor, Wagner will spend six weeks next summer in either South Africa, Tanzania or Senegal to get field-work experience. First, she will participate in a research lab in Hershey during the upcoming school year in a project that assesses how college students who had cancer as children handle higher education.
"We're mostly focused on academic performance, how they balance extracurriculars, that sort of stuff," Wagner said. "Basically, just how they're able to handle the stress level of college with the experiences they've had in the past."
Wagner finds ways to impact her current community, too. She has served on the donor and alumni relations and special events committees for THON. She is also a volunteer coach in a grade-school basketball league in State College and tutors local middle-school and high-school students.
"They don't struggle in math, they just have very low self-confidence," she said. "As soon as you're like, 'No, you do know how to do it,' they're like, 'Oh yeah, I do.' It's crazy how their grades go from Cs to As just because there was someone there to say, 'You can do it.'"
Inspired by her visits to South America, Wagner sees herself working either with disaster relief through a nonprofit or with emergency medicine someday.
"I'm not sure if I'm going to find myself in a clinical position or end up more in the management position," she said, adding with a grin: "Ideally, I'd be the head of the Red Cross."
Written by Jeff Rice.
There are eight areas for students to study within the College of Health and Human Development:
Communication Sciences and Disorders
Health Policy and Administration
Human Development and Family Studies
Recreation, Park, and Tourism Management