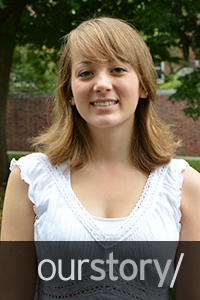 September 2017
Courtney Cann is working to better understand the effects of nicotine on learning and memory, and why some people find it harder to quit smoking than others.
The senior biobehavioral health major is a recipient of a Summer 2017 Undergraduate Research Grant from the College of Health and Human Development, which is allowing her to lead a study using mice to understand sex differences in the effects of nicotine withdrawal. She hopes this research will lead to better treatment for those who want to quit using tobacco.
Cann, of Hazleton, Pennsylvania, is working in the Neurobiological Investigation of Learning and Addiction Laboratory under the supervision of Thomas Gould, Jean Phillips Shibley Professor of Biobehavioral Health and head of the Department of Biobehavioral Health (BBH).
"While cigarette smoking has declined in recent years, it remains a preventable risk factor for various diseases," Cann said. "Even with advancements in smoking cessation products, withdrawal and its associated negative symptoms remain an obstacle for quitting and is responsible for high rates of relapse."
Previous studies have shown that withdrawal from chronic nicotine led to deficits in learning and memory; however, there has been limited research in whether or not these deficits are different in males and females, she said.
In the lab, Cann exposes both female and male mice to nicotine for twelve days, which is then halted for 24 hours. Cann and colleagues then conduct protocols to see if nicotine withdrawal causes different cognitive responses in each sex. In addition to cognitive testing, her work includes performing surgical procedures on the mice to implant and remove pumps filled with saline, collecting blood samples, among others.
Cann's goal is to be able to use her work on mice to study people in the same context. Specifically, she wants to know if a particular gender has more difficulty quitting smoking, whether withdrawal symptoms differ by sex, and if memory and cognitive decline from nicotine play a role.
Cann, who is also president of the BBH Society, said this work would not be possible without the opportunities provided by the Department of Biobehavioral Health, which she chose as a major during her junior year after realizing she was interested in disease causes and preventions.
She is especially intrigued by epidemiology and infectious diseases, such as HIV and Hepatitis. These types of infectious diseases are especially relevant because of the country's opioid epidemic and associated needle sharing, she said.
"Despite developing research and knowledge, there are still pockets in America where HIV is prevalent," Cann said.
After graduation, Cann plans to apply to graduate school with an epidemiology track. Her goal is to one day work at the U.S. Centers for Disease Control and Prevention or a state health department, in the areas of disease surveillance, field investigation, or data collection from infected populations.
She said her undergraduate experience in BBH has helped her cultivate these interests.
"Biobehavioral Health as a major is all-encompassing," Cann said. "It prepares you for multiple areas of study. It also helped me understand that disease isn't caused by just one thing. There's so much more to the puzzle."
There are eight areas for students to study within the College of Health and Human Development:
Communication Sciences and Disorders
Health Policy and Administration
Human Development and Family Studies
Recreation, Park, and Tourism Management