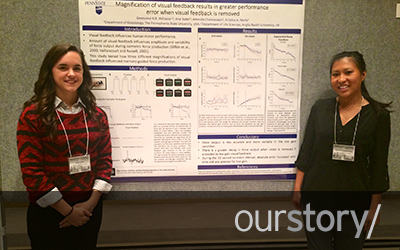 February 2015
Arie Yoder is interested in how the brain processes information.
Thanks to an on-campus research facility, cutting-edge technology and professor mentorship, Yoder is able to use her learning experiences to spearhead her career of becoming a physician assistant.
A senior kinesiology major in the movement science option, Yoder spends her time analyzing brain function and subsequent performance in the Motor Control, Cognition & Neuroimaging (MCCN) lab under the direction of Kristina Neely, assistant professor of kinesiology.
The MCCN lab, in the Department of Kinesiology, focuses on how the central nervous system organizes the execution and inhibition of skilled, purposeful actions.
More than 4,500 Penn State students are enrolled in the College of Health and Human Development studying a wide-array of fields, each committed to the concept of improving the quality of life for others. Yoder, who found a home in kinesiology, is one of those students, and this is her story.
Yoder has been working in the MCCN lab since September 2013.
"I am interested in the field of neuroscience, and this lab and the research we do fits perfectly with my interests," Yoder said. "Since being with the MCCN lab I have learned a lot. I have learned more about the Basal Ganglia and prefrontal cortex parts of the brain and how they function and play important roles in daily life."
Yoder said being able to conduct this research on campus gives undergraduates a great learning experience. And it's the resources available that make it possible.
"Most kinesiology faculty actively involve many undergraduates in their research each semester," said Nancy Williams, professor of kinesiology and physiology and head of the Department of Kinesiology. "These students get experience working in laboratories where they assist with data collection, data entry, data analysis, and with conducting a wide variety of laboratory procedures."
Many faculty, Williams said, involve undergraduate students in manuscript writing, and many students get to attend national professional meetings.
The research in the MCCN lab uses systems neuroscience techniques that include functional magnetic resonance imaging, structural MRI, and kinetic and kinematic movement analysis. The lab is equipped with specialized, custom-built hardware for recording arm movements and muscle activation profiles during the performance of virtual reality-like tasks. Experimental set-ups include air-jet supported friction-free manipulanda, 3-D recording systems, MRI-compatible force sensors, hand and grip force dynamometers, and clinical scales for cognitive and motor testing.
"It makes it easier and faster to conduct research here than if we had to go somewhere else to use the equipment," Yoder said. "I also think it would be harder to get participants for our study and therefore would delay the process of conducting experiments and seeing the results. The force experiments that we are working on now, we hope to be able to do in an MRI scanner so we can see how and what parts of the brain are active during these experiments. That part of our research would be impossible to do if we did not have the MRI scanner available on campus."
In October, Yoder presented her project, "Magnification of visual feedback results in greater performance error when visual feedback is removed," at the Canadian Society for Psychomotor Learning and Sport Psychology in London, Ontario. The study, done in collaboration with biomedical engineering undergraduate student Amanda Chennavasin, tested how three different magnifications of visual feedback influenced memory-guided force production.
Yoder said attending the international conference helped expose her to all different types of research being conducted in the field of motor control.
"The conference was a great experience and I hope to continue working with the lab and learning more," she said.
In her future plans of becoming as a physician assistant, Yoder said she would like to specialize in neurology.
"After I graduate from Penn State I plan to go in to a physician assistant program," she said. "This research helps me obtain that goal because it opened my eyes to the field of neuroscience. Before working in the lab, I knew what neuroscience was, but not much more. After working in the lab, I have been introduced to so much of the field, and the lab really sparked my interest so much that I would love to pursue this specialty in my future career."
To use on-campus labs in the kinesiology department, students sign up for independent study credits (KINES 496), practicum credits (KINES 395) or internship credits (KINES 495) with a particular faculty member. These students typically have had the faculty member in class or have met the faculty member at the department's annual research poster forum. The forums are targeted particularly for undergraduates to and meet faculty and learn more about their research.
"By participating in faculty research, these students learn firsthand how new knowledge is discovered, how important it is to think critically, and how to look at a problem from many different angles," Williams said. "These experiences are invaluable to our students. Oftentimes students communicate back to their faculty mentors that the experience they had in that faculty's laboratory was critical to landing their first job, or for getting accepted into graduate school."
In addition to the Department of Kinesiology, there are a variety of areas for students to study within HHD through the Departments of Biobehavioral Health, Communication Sciences and Disorders, Health Policy and Administration, Human Development and Family Studies, Nutritional Sciences, Recreation, Park, and Tourism Management, and the School of Hospitality Management. Learn more about HHD.
For more information about the MCCN lab visit http://sites.psu.edu/mcnlab/.