Our Story/Raquel "Rocky" Rodriguez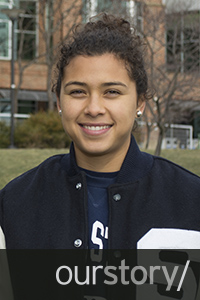 February 2016
It's well known at Penn State that Raquel "Rocky" Rodriguez is a standout soccer player. Her list of achievements is lengthy.
She served as a team captain on the national championship women's soccer team. She was named National Soccer Coaches Association of America (NSCAA) Scholar Player of the Year and NSCAA First Team All-American. She received the Hermann Trophy Award from the Missouri Athletic Club, which is issued to the top female college soccer player in the United States. Last, but not least, Rodriguez, a senior, was the No. 2 pick in the National Women's Soccer League College Draft in January 2016 by Sky Blue FC in Morristown, New Jersey.
While known most for her success on the soccer field, lesser known is Rodriguez's plan to build a life apart from soccer, a plan she began developing at Penn State. Her first step was choosing Recreation, Park, and Tourism Management with plans to ultimately have a career in sports administration.
Her interest in sports administration began when she arrived at Penn State from San Jose, Costa Rica, and met Charmelle Green, senior associate athletics director. Green told Rodriguez that if she ever needed anything, to let her know.
"Later, I learned she had a high-level position and that impacted me because I came from a place where administrators don't know you and don't seem to really care. Seeing someone in a top position serving me, I couldn't believe that," Rodriguez said. "That was what made me decide, I want to do that. I want to impact young girls to be better."
Rodriguez will begin her professional soccer career in the spring, she is still working toward her undergraduate degree and is expected to graduate in December 2016. She plans to play professionally for as long as she can, while simultaneously honing her athletic administrative skills and learning new skills to make herself marketable off the field.
"I don't want to limit myself to just playing soccer. I think it could get dangerous for me to just get stuck on that only," Rodriguez said. "I value skills in general. It's about growing skill-wise and knowledge-wise and understanding that soccer is not going to be forever."
Ultimately, Rodriguez wants to start an athletic and academic program for young girls in Costa Rica. She sees it as an opportunity to teach girls athletic skills and provide educational opportunities while also creating jobs for teachers and coaches.
"When I was growing up in Costa Rica, I had a lot of frustrations because women's soccer was not as supported as much as men's soccer, and I wished that we would have had more resources," she said. "That was really hard for me to accept, and that is why I came to the United States. I knew if I wanted to keep growing as a soccer player, I had to leave. Our generation, we are pioneers, and this is not only about me and what I want to do."
More than 4,500 Penn State students are enrolled in the College of Health and Human Development (HHD) studying a wide array of fields, each committed to the concept of improving the quality of life for others. Rodriguez, who found a home in the Department of Recreation, Park, and Tourism Management (RPTM), is one of those HHD students.
In addition to RPTM, there are a variety of areas for students to study within HHD through the Departments of Biobehavioral Health, Communication Sciences and Disorders, Health Policy and Administration, Human Development and Family Studies, Kinesiology, Nutritional Sciences, and the School of Hospitality Management. Learn more about HHD.