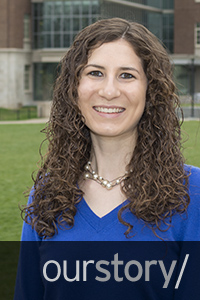 May 2016
As an undergraduate student, Samantha DiMeo conducted research that offers a solution to a major health care problem. As a result, she was able to present her findings to health care industry professionals.
DiMeo's systematic literature review, as part of her Schreyer Honors College thesis, showed that major pharmacy chains, retail chains, and health systems' retail health clinics have the potential to improve health care access for underserved populations, including residents in rural areas.
DiMeo presented her findings at the 2016 Community and Public Health Conference, which was co-sponsored by the Pennsylvania Public Health Association and the Pennsylvania Office of Rural Health.
"Retail health clinics have the potential to increase access to care for underserved and rural populations, but the business models of retail health clinics are structured to be profitable; therefore, clinics are primarily located in urban and more affluent areas," DiMeo said.
More than 4,500 Penn State students are enrolled in the College of Health and Human Development (HHD) studying a wide-array of fields, each committed to the concept of improving the quality of life for others. DiMeo, who found a home in the Department of Health Policy and Administration (HPA), is one of those HHD students.
"My research revealed that retail health clinics can serve as a way to reduce unnecessary emergency room visits and reduce wait times," DiMeo said. "As a future hospital administrator it's really important to look at ways to reduce health care costs and the emergency department is a huge sector where we could really look at reducing those costs."
Beyond her research, DiMeo has been involved in various organizations, from serving as vice president of the Health Policy and Administration Club to member of Alpha Kappa Psi, a co-ed professional business fraternity. She also is minoring in Spanish and information sciences and technology.
"At Penn State, you can get involved in so many areas, academically and through many organizations and clubs," DiMeo said. "My time here has really given me an opportunity to expand my horizon and do more than I thought I was able to do."
In addition to HPA, there are a variety of areas for students to study within HHD through the Departments of Biobehavioral Health, Communication Sciences and Disorders, Human Development and Family Studies, Kinesiology, Nutritional Sciences, Recreation, Park, and Tourism Management, and the School of Hospitality Management. Learn more about HHD.