Our Story/Cassaundra Soars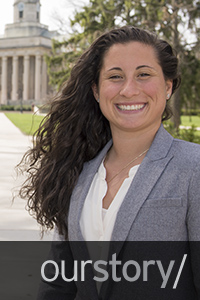 April 2016
Growing up in Central Pennsylvania, Cassaundra Soars always dreamed about attending Penn State. After suffering a knee injury while playing women's soccer at another university, Soars' dream came true with her enrollment at University Park.
"I was just drawn to the University," she said. "Penn State athletics is what I grew up around. I remember staying up late watching the Orange Bowl with my dad. My grandmother also went to Penn State."
More than 4,500 Penn State students are enrolled in the College of Health and Human Development (HHD) studying a wide array of fields, each committed to the concept of improving the quality of life for others. Soars, who found a home in the Department of Recreation, Park, and Tourism Management (RPTM), is one of those HHD students. This is her story.
In just a short time, Soars has made her own impact at Penn State, which led to the Pennsylvania Recreation and Park Society presenting her with the Student Honor Award for 2016, which recognizes the top recreation student in the state. Soars also received the Larry G. Williamson scholarship to attend the society's annual conference in March.
"It was an honor to receive the Student Honor award, but I wouldn't have received it if it weren't for the unwavering commitment of the faculty and staff within the Department of Recreation, Park, and Tourism Management," she said. "They're all very dedicated to see students in the department succeed."
In addition to her course work and her role as an officer with the Recreation, Park and Tourism Management Student Society, Soars has participated in the Resort Recreation Practicum, a program through RPTM that provides students with hands-on exposure to resort recreation management. The course has partnered with Marriott Vacations Worldwide and with The Reeds at Shelter Haven in Stone Harbor, New Jersey.
The course includes on-site visits to the resorts, demographic analyses of guests and visitors as well as recreation and special event programming recommendations.
The course provided Soars with the experience necessary to stand out in the resort recreation field.
"Working side by side with associates and the executive teams at Marriott Vacation Club and The Reeds has really helped me to build professional relationships with the top individuals in the industry," Soars said.
Through these engaged scholarship experiences, Soars said she learned how to communicate effectively with professionals in the resort recreation industry and collaborate with other students and activity managers to identify best practices in resort recreation. Soars was awarded a scholarship to attend the Resort and Commercial Recreation Association annual conference at Captiva Island, Florida in November.
In the summer of 2016, Soars will be returning to Marriott Vacations Worldwide in Orlando to complete an internship at the company's corporate offices. Her focus will be to support the company's roll out of their guest fitness programs.
"The student engagement opportunities that RPTM has provided have been extremely beneficial, not only for myself, but also for the other students in the department," Soars said. "I was able to interact with professionals in the field and build great friendships with my peers in RPTM."
In addition to RPTM, there are a variety of areas for students to study within HHD through the Departments of Biobehavioral Health, Communication Sciences and Disorders, Health Policy and Administration, Human Development and Family Studies, Kinesiology, Nutritional Sciences, and the School of Hospitality Management. Learn more about HHD.