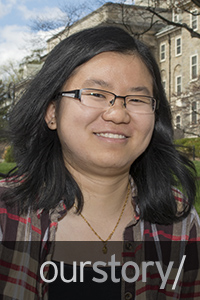 April 2015
Carolyn Low has not been home in three years.
When she arrived to University Park on a government scholarship she did not know a single person aside from the few friends who transferred to Penn State before her; her family and most of her friends were a world away in Malaysia.
A self-described reserved, quiet, young woman, Low found herself on her own in a foreign country responsible for the first time for paying rent and other bills, making sure there was food in the refrigerator, and pursing her studies in Hospitality Management.
Still, it did not take long before Low was no longer on her own. Soon, she would have a mentor in Heather Wilson, 1995 Penn State graduate and business analyst with Marriott International, and an advisor in Associate Professor of Hospitality Management Breffni Noone. The two professionals not only offered Low academic and career advice, but helped Low become assimilated with American culture.
Wilson invited Low to her family's traditional Thanksgiving dinner and explained American football while tailgating at Beaver Stadium. Noone, an Irish national, was able to relate to Low's international experience.
"I really became more independent and more confident in myself, but it's not solely my contribution," Low said. "The people around me at Penn State who were so kind to me and opened their arms to me - even though I was practically a stranger to them - really offered me a lot of help, guidance, advice, and just a shoulder to lean on. It's really the people here - who were so warm, so open, and so helpful - who really changed me as a person by helping me put myself out there more often and helping me to believe in myself."
More than 4,500 Penn State students are enrolled in the College of Health and Human Development (HHD) studying a wide-array of fields, each committed to the concept of improving the quality of life for others. Low, who found a home in the School of Hospitality Management (SHM), is one of those HHD students, and this is her story.
Low conducted a thesis project, titled, "Tipping and Service Charge," for the Schreyer Honors College and completed internships with The Penn Stater Conference Center Hotel, Marriott's Harbour Lake, and IDeaS, a revenue management software company.
Additionally, Low served as mass coordinator for the Campus Catholic Ministry, communications chair for the National Society of Minorities in Hospitality, co-vice president and activity/snack chair for the outreach program Cooking With Kids, and served on the performance committee, hall decoration committee and hospitality committee for the annual Malaysian Cultural Night.
Low also served as team captain and volunteer for Passport on a Plate, a Global Connections' fundraising dinner, volunteer for Historic Fall Fest and counselor at Cook Like a Chef camp. She is a member of Eta Sigma Delta Honor Society and tutored other students at Penn State Learning.
Over the last three years, though far away, Low was able to complete her studies thanks to the ongoing support of her family.
"My family was a great source of strength, especially during times like birthdays, Christmas, and Chinese New Year," Low said. "Skype has made it possible to still be close to them even though we are half a globe away from each other."
Following the May 9, 2015, commencement ceremony, Low will return to Malaysia, reunite with her family, and take a few months off to travel before beginning her career, the details of which have yet to be finalized.
"There is no guarantee as to where I will be in the future, but wherever that may be, I hope that I can give back to the world all it has given to me thus far," Low said.
In addition to hospitality management, there are a variety of areas for students to study within HHD through the Departments of Biobehavioral Health, Communication Sciences and Disorders, Health Policy and Administration, Human Development and Family Studies, Kinesiology, Nutritional Sciences, and Recreation, Park, and Tourism Management. Learn more about HHD.