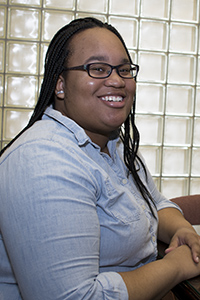 April 2015
Each corner of the United States, the Caribbean, Europe, Africa, Asia and Australia are all on her list.
"I want to see the world," said Naquita "Nikki" Goldston. "Literally, see the world."
Born in Brooklyn, New York, Goldston spent most of her childhood not far from Myrtle Beach, South Carolina. When she began her college search, she sought out the best forensic science programs in the country, and discovered Penn State.
Not intimidated by new environments and eager to live in a region known for its snowy winters, Goldston said one visit to University Park sealed her collegiate decision. However, what Goldston quickly found was that forensic science was not quite the right fit for her. She did not envision a career spent in a laboratory.
Instead, Goldston imagined a life that took her to new and exotic places while allowing her to interact with different people outside a typical office space. That vision is what led Goldston to the School of Hospitality Management (SHM).
"I enrolled in a hospitality management course, and thought, 'OK, maybe this is where I need to be," Goldston said. "From there it was love at first sight."
More than 4,500 Penn State students are enrolled in the College of Health and Human Development (HHD) studying a wide-array of fields, each committed to the concept of improving the quality of life for others. Goldston, who found a home in SHM, is one of those HHD students, and this is her story.
Goldston has taken advantage of her time at Penn State, seeking out many opportunities to gain hands-on experience. As a second year student she served as a front desk intern at the Penn Stater Conference Center Hotel, one of two hotels owned and operated by Penn State Hospitality Services. Afterward, management hired her as a front desk employee.
"I fell in love with my co-workers and the repeat guests for football, hockey and basketball games," Goldston said. "You get to know these people, their faces and their families. I love that part of it."
Goldston also completed an externship in the spa department at the St. Regis Hotel in San Francisco and an externship in the revenue management department at the W Hotel in Hollywood. She is also slated to complete an internship in the summer of 2015 in the housekeeping department at the St. Regis Hotel in New York where she completed an internship in human resources last summer.
Back at Penn State, Goldston serves as the executive board's special events chair for the student chapter of the Penn State Hotel and Restaurant Society. She is also a recruitment ambassador for SHM, facilitating recruiters who visit the school. Goldston is also a member of Eta Sigma Delta, the hospitality honor society.
"It's been an amazing journey," Goldston said.
Following graduation, Goldston wants to work in hotel operations and enter a management training program with a top hotel company.
"I love working weekends. I don't mind the crazy hours right now," she said. "I just want to be immersed in the industry and see it from different angles."
Ultimately, during the first 10 years of her career, Goldston hopes to live in different parts of the United States and at one point the Caribbean all while advancing her position in the hospitality industry.
"I feel like you should not be comfortable for long. I think once you are comfortable you've maxed out that opportunity and you need to try something new and different," Goldston said.
In addition to SHM, there are a variety of areas for students to study within HHD through the Departments of Biobehavioral Health, Communication Sciences and Disorders, Health Policy and Administration, Human Development and Family Studies, Kinesiology, Nutritional Sciences, and Recreation, Park, and Tourism Management. Learn more about HHD.