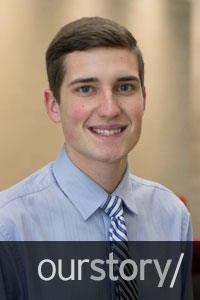 January 2017
For Nate Ashton, who graduated in December 2016 with a degree in Health Policy and Administration, there is something special about having a genuine connection with older adults while sharing something simple, like a meal together.
Ashton regularly sought and appreciated such connections as an intern and then part-time employee at Foxdale Village, a continuing care retirement community in State College.
During has last semester as a student, on Fridays, Ashton worked at Foxdale where he ate with residents and led one-on-one exercises in a swimming class, while also assisting with policy writing and a transition to electronic medical records.
"I have a lot of relationships with people in independent living, personal care, and skilled care and they're important to me. I see them and give them updates on my life, and they update me on theirs. It's a big encouragement in my week," Ashton said.
The experience is such an encouragement that Ashton did not take a day off for graduation weekend—even when he was serving as student marshal for the College of Health and Human Development at the commencement ceremony.
"I don't want to miss out on that in my week. I'd miss it too much if I didn't go. It's part of my weekly routine to go there and be part of the community," Ashton said.
Working at Foxdale reinforced Ashton's interest in a career related to aging adults, particularly with communities that make transitions of care easier as people age and shift from independent living to personal and skilled nursing care.
"If someone needs personal or skilled nursing care, it's there for you, but you're not leaving and separating from the community, you're still in same facility. I think that helps people stay plugged in and encourages them to keep their independence," Ashton said. "Social isolation is a big risk factor in older adults, and to get people into a community is really helpful in preventing against those risks."
Ashton now plans to pursue an administrative career in long-term care services and supports to foster high-quality, meaningful care for older adults.
Ashton graduated with a Bachelor of Science degree in Health Policy and Administration with minors in Gerontology and Human Development and Family Studies, and a 4.0 GPA.
A Schreyer Honors Scholar, Ashton is the recipient of the Penn State President's Freshman Award, the President Sparks Award, and the Evan Pugh Junior and Senior Scholar Awards. He is also the recipient of the Jean Phillips Shibley Memorial Health Education Scholarship, Richard Albanus Smith Scholarship, and Schreyer Honors College Academic Excellence Scholarship.
He conducted the thesis project, "Resident Perspectives of Religious and Spiritual Care Preferences in Nursing Homes: A mixed-methods approach," for the Schreyer Honors College.
While at Penn State, Ashton served as president of the Penn State student chapter of the American College of Health Care Administrators and of Cru, a Christian organization on campus.