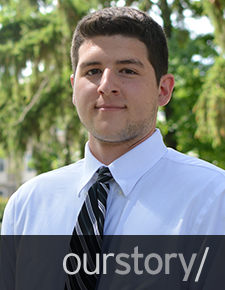 September 2017
It all started with an assignment.
Students enrolled in RPTM 101, a careers exploration course for students majoring or minoring in Recreation, Park, and Tourism Management, are tasked with interviewing a professional working in a field of his or her interest and then writing a paper based on that interview.
For student Zach Fernandez, who wants to work in the front office of an NFL team and ultimately become a general manager, instructor Patty Kleban suggested he interview Penn State alumnus Adam Rudel, who is the marketing and football outreach coordinator for the Baltimore Ravens.
"I appreciate Mr. Rudel taking the time to speak with me over the phone. In closing, I asked him, 'looking back, are you happy with where you are now?' With that he answered that he was 100 percent happy," Fernandez wrote in his assignment.
Later, Kleban asked Fernandez to introduce Rudel when he participated in the department's Professionals in the Classroom event. From there, Rudel took on a mentoring role for Fernandez and invited him in summer 2017 to the Baltimore Ravens stadium for a day during the Ravens' training camp.
While visiting, Fernandez was able to watch Rudel work, which included coordinating a youth football event for local children. Fernandez was also able to meet other staff members and assist with various parts of the day's events, including escorting the Ravens mascot around the stadium for photos with fans.
The unique opportunity to see up close what it is like to work in the NFL only solidified Fernandez's career goals. And it all started with a class assignment.
"The experience helped me see first-hand what Adam does everyday, and showed me that I still want to pursue a career in the NFL," Fernandez said. "The mentoring experience is also huge because in the world of sports and the NFL it is about networking and building contacts, and Adam helps me with that. I love the NFL and if I could do something I love and get rewarded highly for it, that would be great."
There are eight areas for students to study within the College of Health and Human Development:
Communication Sciences and Disorders
Health Policy and Administration
Human Development and Family Studies
Recreation, Park, and Tourism Management