Student Profiles - Communication Sciences and Disorders
Our Story/Farlah Cadely
Farlah Cadely remembers the day she came home to find her younger sister, an elementary school student, crying in her room. Cadely learned that when her sister read a passage out loud in class, the other students heard her speech error and bullied her.
Her sister pronounced "r" sounds as "w," an issue that can be helped by a speech-language pathologist, but in this case, resolved with age.
Cadely never forgot her sister's experience; however, it wasn't until a high school career aptitude test suggested speech pathology as a profession that she researched the field and decided to pursue it. She appreciated that the career would provide both research opportunities along with regular interpersonal communication while helping others.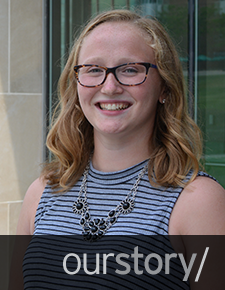 Our Story/Heidi Fanton
When an infant is a new addition to a family, adequate sleep for everyone in the household is a common issue of concern.
Student Heidi Fanton is helping Penn State researchers, including Doug Teti, head of the Department of Human Development and Family Studies, investigate sleep habits that will ultimately lead to recommendations for healthier sleep habits for infants and families.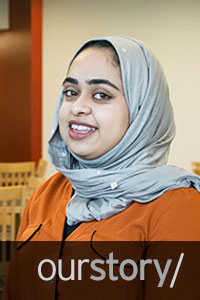 Our Story/Rawan Ali Jaffer Al Lawati
As a child, Rawan Ali Jaffer Al Lawati struggled with certain pronunciations and her classmates bullied her for the speech impediment.
After time with a speech-language pathologist, Lawati improved her pronunciation. Today, she is an undergraduate student at Penn State majoring in Communication Sciences and Disorders (CSD) and minoring in Psychology with a goal to help others.
Ultimately, Lawati wants to return to her home country of Oman where she said more support programs are needed.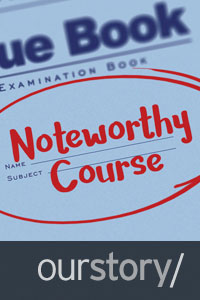 Our Story/Introduction to Audiology
After a day of closing off one ear, Grace Bratlee's eyes were opened to the struggles of what one in five people experience—some form of hearing loss. The project in Introduction to Audiology, which tasks students to wear one earplug for a day to simulate hearing loss, has made the course both memorable and impactful.
"I think many people are unaware of the field of audiology and are genuinely curious about what they can do to help loved ones and others," said Grace Bratlee '16 CSD.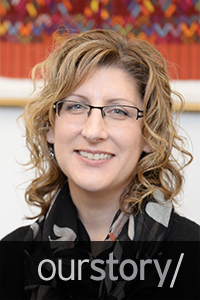 Our Story/Kathy Drager
Kathy Drager, associate dean for research and graduate education, knows how hard it can be for an undergraduate student to identify a career path. Her pursuit of speech-language pathology as a career did not materialize until she discovered the marriage of language and disability.
"Communication is a way in which human beings can connect with one another, and this is no less important for those who have a disability that makes speech difficult or impossible," Drager said.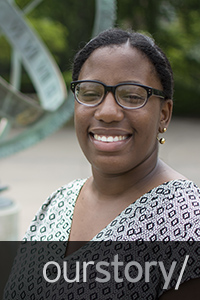 Our Story/Jalyn Taylor
The car needs washed.
For people who grew up in Central Pennsylvania, the previous sentence likely will not seem out of the ordinary. However, for those who move to the area, the sentence often grabs their attention. That's because the proper phrasing should be, "The car needs to be washed."
That common local phrasing is what undergraduate student Jalyn Taylor is studying through the McNair Scholars Program with Carrie Jackson, associate professor of German and linguistics, in Moore Laboratory.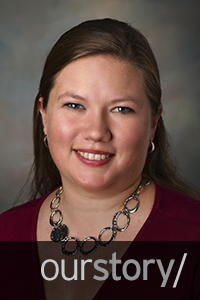 Our Story/Sommar Chilton
When instructing an introductory course for American Sign Language, on the first day of class, Sommar Chilton uses sign language to introduce herself and the course to students. Most students look back at her with blank stares or confusion.
For Chilton, one of the most rewarding aspects of her career is making a positive impact on her students.
"When a student says to me that I made a difference in their lives or I helped them to think about something from a different perspective, whether it is people who are deaf or sign language, that is the best thing I could ask for from my students," Chilton said.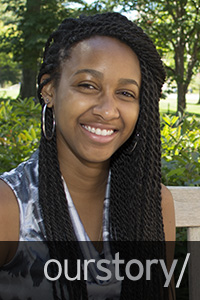 Our Story/Angelique Murillo
Angelique Murillo, an undergraduate Schreyer Scholar and Waller Mildred S. Bunton and Calvin H. Waller Undergraduate Fellow, most recently, gained speech-language pathology experience at UPMC-Altoona Regional Hospital through a graduate externship.
"A lot of people don't realize how important it is to be able to communicate and how devastating it can be when you lose that ability," Murillo said. "For example, when I'm working with a patient who had a stroke and I point to a table but they are unable to tell me that it's a table, I see the frustration on their face. Being able to help patients so that eventually they are able to tell you it's a table…that makes you feel like you've helped them."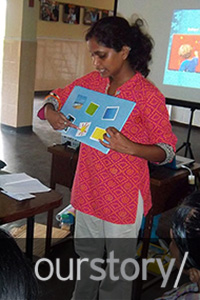 Our Story/Nimisha Muttiah
While at Penn State, Nimisha Muttiah, a recent Communication Sciences and Disorders alumni, wanted to apply what she was learning in the classroom directly back in her home community in Sri Lanka.
"I saw for myself the lack of professional and material resources and felt there was a genuine need and void that needed to be filled," she said speaking about with children with autism spectrum disorders (ASD) at specialized pre-schools in Sri Lanka
Our Story/Kelsey Takemori
When Kelsey Takemori was in elementary school she attended speech class where she learned how to correctly pronounce the letter "R" by repeating phrases such as, "the rabbit ran around the rink."
"It wasn't until I was in high school that I realized all of those times I would leave class to go to 'speech' I was receiving what I now know to be speech therapy from a speech-language pathologist," Takemori said.
Our Story/Ana Daccach
A reference by Ana Daccach's mother to The King's Speech ultimately led her to Penn State's College of Health and Human Development.
At the time, Daccach was considering becoming a doctor like her father, but as her high school graduation approached she became less certain that medicine was the right field for her. That is when her mother brought up the film, which depicts a speech therapist helping England's King George VI overcome stuttering. Daccach's mother also pointed out that Daccach's brother worked with a speech therapist when he was younger.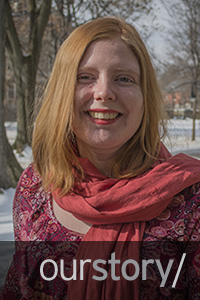 Our Story/Hope Schmid
At the age of 16, Pennsylvania native Hope Schmid found herself in Belgium, immersed in a new culture, and adjusting to speaking a new language. As a high school exchange student who was honing her French speaking skills, Schmid found herself learning a great deal while also facing the difficulty of being unable to fully communicate her feelings to those around her.
It was then that Schmid began to see the beauty of language and the importance of communication.
"I loved it, but it was also really hard," Schmid said. "I couldn't speak English, which gave me insight into communication and the challenges that occur when someone is unable to communicate their emotions."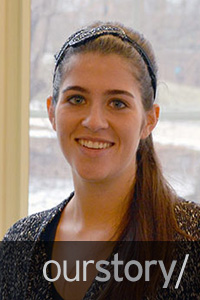 Our Story/Maggie Lamb
Maggie Lamb was a junior in high school when her cousin Aidan was born. Soon after, the family learned he was deaf. Maggie looked on as Aidan began wearing hearing aids, worked with speech therapists, and the family adjusted to a new reality.
There were times Lamb would watch Aidan and his speech therapist work together. Once, Lamb had an epiphany and a career path became clear.
"It was that 'ah-ha' moment, this is what I want to do," Lamb said. "Plus, I have those personal experiences to drive me drive to do this."
Lamb selected Penn State's CSD program after seeing the diverse offerings, such as the rare undergraduate course Augmentative and Alternative Communication, where students use and create communication technology systems for people with communication disabilities.