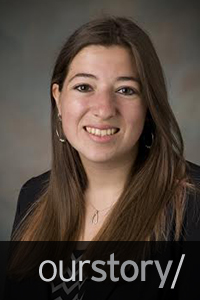 September 2016
Before Abby Michael ever applied to college, Penn State was like a second second home for her.
Growing up, Abby Michael's father always took the family to Penn State football games. When she was 8-years-old, her oldest brother enrolled at Penn State and her father purchased season football tickets.
For the next 10 years, Michael spent every home football weekend in State College. Along the way, two of her other older brothers also enrolled at Penn State.
"Between football visits, move-in and move-out dates, and just visits to stop-in and say hello, Penn State quickly became my home away from home. In middle school and high school, I dedicated myself to my school work with the one goal of attending Penn State," Michael said.
"By the time senior year rolled around, I decided to only apply to Penn State and told myself that I would attend a branch campus for two years, if that was what it would take to make it to main campus. Luckily, in December of my senior year, I received the giant envelope in the mail with my acceptance letter to Penn State, University Park campus."
More than 4,500 Penn State students are enrolled in the College of Health and Human Development (HHD) studying a wide array of fields, each committed to the concept of improving the quality of life for others. Michael, who found a home in the Department of Recreation, Park, and Tourism Management (RPTM), is one of those HHD students, and this is her story.
Originally a veterinary science major, Michael later shifted to RPTM to follow her passion to connect with families through a career in resort recreation or the sports entertainment industry.
"I believe that either of these careers will provide me with the opportunities to make unforgettable memories for families and children as they enjoy their vacations or free time while experiencing their favorite leisure events," Michael said. "My goal within my work is to make the best memories for others through their leisure or vacation time because I value my own leisure memories so greatly."
As a student, Michael enrolled in the Resort Recreation Practicum, which allowed her and her classmates to partner with Marriott Vacations Worldwide. Through the course, students studied resort management, in part, by spending one week in October at the Marriott's Grande Vista resort in Orlando, where students participated in Marriott Vacation Club's Roadshow Management Training. Students also met with the executive team of Marriott Vacation Club.
"The practicum provided a hands-on experience that could not be replicated in a classroom only setting and I will carry the skills that I learned within the practicum to my professional career," Michael said.
Previously, Michael completed an internship with Kiawah Island Golf Resort as an activities staff member and camp counselor. She also worked as a production and in-game entertainment associate for Penn State baseball and the State College Spikes. Most recently, she served as an activities intern at the Marriott Vacations Worldwide Harbour Lake Resort in Orlando. After graduation, Michael is slated to complete a three-month internship for the Corporate Resort Experience with Marriott Vacations Worldwide in Orlando.
"My internship experiences have prepared me for my career by helping me to learn leadership skills, conflict resolution, time management, as well as the daily responsibilities for the different career fields that I am most interested in," Michael said.
Michael has been active in a variety of ways at Penn State, including serving as a student volunteer and committee member for Penn State IFC/Panhellenic Dance Marathon (THON). She also completed the Women's Leadership Initiative and received the Edith Pitt Chace Award, which is awarded to an outstanding student leader and scholar in the College of Health and Human Development.
In addition to RPTM, there are a variety of areas for students to study within HHD through the Departments of Biobehavioral Health, Communication Sciences and Disorders, Health Policy and Administration, Human Development and Family Studies, Kinesiology, Nutritional Sciences, and the School of Hospitality Management. Learn more about HHD.