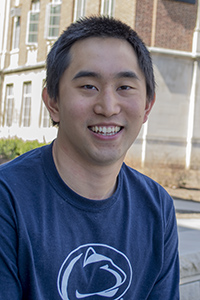 June 2015
Timothy Chiang was just 12 years old when he moved to State College, Pennsylvania with his mother and sister from Taipei, Taiwan, in their quest to reside in a safe, small town that offered a quality education.
Separated from his father, who stayed in Taiwan to work, and faced with the struggle of a language barrier with his teachers and peers at school, Chiang wanted to return to his home. However, it was the sacrifice his parents made to bring Chiang to State College that motivated him to do well in school and ultimately enroll at Penn State to study health policy and administration before fulfilling his goal of attending medical school.
"Given how much work they put in for me to be here there was no way I was going to disappoint them," Chiang said.
More than 4,500 Penn State students are enrolled in the College of Health and Human Development (HHD) studying a wide-array of fields, each committed to the concept of improving the quality of life for others. Chiang, who found a home in the Department of Health Policy and Administration (HPA), is one of those HHD students, and this is his story.
"I've wanted to be a doctor since high school, but always interested in the business aspect of health care, so I thought health policy and administration was the perfect combination of that," Chiang said. "Given how fast health care is changing with the Patient Protection and Affordable Care Act and increased government involvement, I knew to be a good member of the health care system it's important to understand how the system works. HPA has really allowed me to see how it works from different perspectives, from health care providers to policy makers."
Chiang served as the student marshal at the May 9, 2015, commencement ceremony for the health policy and administration major.
While at Penn State, Chiang made the dean's list every semester. He served as president for one year and treasurer for two years with the Pre-Medical Society. He was a member of the HealthWorks Peer Education/Outreach Program. He volunteered at the Mount Nittany Medical Center. He served as an Orientation Leader in the summer of 2013. He also served as learning assistant for BIOL 230W.
Chiang also conducted a thesis project, titled, "Discrepancy in hospitalization charges and length of stay between children with and without obesity," for the Schreyer Honors College under the supervision of Marianne Hillemeier, head of the Department of Health Policy and Administration. Hillemeier will also serve as Chiang's faculty marshal.
Chiang will attend Penn State Hershey College of Medicine.
"Growing up I've always been a calm person and people like to come to me for advice and I do enjoy talking to people, giving advice, and helping people overcome problems," Chiang said. "I want a career where I talk to people on a daily basis and I've always been interested in science, so combining different interests has helped lead me to pursuing a career in medicine."
In addition to HPA, there are a variety of areas for students to study within HHD through the Departments of Biobehavioral Health, Communication Sciences and Disorders, Human Development and Family Studies, Kinesiology, Nutritional Sciences, Recreation, Park, and Tourism Management, and the School of Hospitality Management. Learn more about HHD.