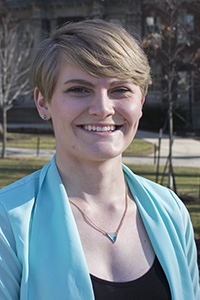 April 2015
When Clara Etter graduates this spring, she has a multitude of career options to choose from, and she said she owes that insight to her experiences at Penn State.
Etter is a senior majoring in kinesiology in the movement science option, with minors in health policy and administration, and bioethics and medical humanities. She said her major has driven her to pursue her passions in science and the health care field, and has taught her the importance of versatility.
"My choice of kinesiology as a major has pushed me to be continuously curious, which is a value I will treasure for the rest of my life," she said. "One of the best components of my degree has been my ability to maintain a well-rounded education through various coursework, extracurricular activities and work experiences. I believe the best educations are those filled with a balance of topics that help drive innovative thinking and creativeness. Penn State has helped me accomplish that."
More than 4,500 Penn State students are enrolled in the College of Health and Human Development (HHD) studying a wide-array of fields, each committed to the concept of improving the quality of life for others. Etter, who found a home in the Department of Kinesiology (KINES), is one of those HHD students, and this is her story.
Etter said her journey at Penn State started long before she received an acceptance letter. Her grandparents and her father are Penn State alumni, and the Chambersburg, Pennsylvania, native was exposed to the University at a young age. Her family would take trips to State College on Sunday afternoons, walk around campus and grab ice cream from the Berkey Creamery.
"I even have a photo from the late 90s of all four of my siblings and me lined up on the Nittany Lion Shrine," Etter said. "There is no question the connection runs deep, which is easily shown by my two sisters and brother who are also current Penn State students. Clearly attending Penn State truly has been a family affair."
Etter's own undergraduate experience started in June 2011 with intentions of pursuing a degree in pre-medicine.
"I started my classes off with high hopes and an eagerness to learn," she said. "Within the first month of classes, I discovered kinesiology and decided to change my major because of my deep-seated interest in human physiology. Looking back, there is no question majoring in kinesiology was the right choice for me."
In addition to her coursework, Etter's time has been dedicated to being a student volunteer for the Penn State IFC/Panhellenic Dance Marathon (THON) fundraising organization, Atlas.
"I have maintained jobs throughout my four years to pay my own way," Etter said. "I have worked as an office assistant in Lasch Football Building and a tutor for the Morgan Academic Support Center."
Most recently Etter was hired as a medical scribe at Mount Nittany Medical Center, where she has been able to use the job as an internship course credit.
"Being one of my first exposures to the daily operations of an emergency department has been absolutely eye-opening," she said.
Additionally, Etter regularly volunteers in the Women's Health and Exercise Lab, and is the first official acting president of Penn State's Special Interest Association. The group acts as an umbrella organization that brings special interest groups together, she said.
Her position, in which she manages board members and organizes roundtables and events, has tested her abilities as an entrepreneur.
"I'm always for getting people together," Etter said. "It's one of my strengths I've built across the years."
Looking back, Etter said she is astonished by the resources Penn State provided her.
Although she has not determined what career path she will take, she said she feels strongly that she will end up in the health and science field.
"I feel confident in my skills and abilities that I will be able to discover a career best suited for me with some patience and persistence," said Etter. "In the meantime, I will continue to nurture my curiosity for learning and work to gain experience."
"If there is one thing I have learned at Penn State it is to never limit yourself," she continued. "There are endless options in pursuing your dreams, and stepping off the main trail sometimes is the best path for a person to take."
In addition to Kinesiology, there are a variety of areas for students to study within HHD through the Departments of Biobehavioral Health, Communication Sciences and Disorders, Health Policy and Administration, Human Development and Family Studies, Nutritional Sciences, Recreation, Park, and Tourism Management, and the School of Hospitality Management.